API Event Schedule
API is committed to connecting parents with researchers and experts in the field of Attachment Parenting. To this goal, API participates in many events in the community, both online and in person. Bookmark this page and check back often for more specific announcements.
Recent & Upcoming Events

October 27, 2012 -
Papas and Mamas Sing for Healthy Birth Benefit Concert
Thank you to the Mamas and Papas who sang on behalf of healthy birth all night long Attachment Parenting International's Nashville, TN, benefit concert!
Delbert McClinton and Band headlined the show and rocked Third and Lindsley, along with Chapman, Mosser, Kennedy, and Ramsey, The McCrary Sisters, Kevin and Yates McKendree, and Gary Nicholson. At the event, Dr. William Sears and Martha Sears presented the API "Attached at the Heart" 2012 Contributions in Parenting Award to Ina May Gaskin, renown midwife and author, and recognized our honorees Ricki Lake and Abby Epstein for their work on the Business of Being Born. The benefit concert supported the work of API and Lamaze International and was the 2012 Lamaze conference featured entertainment.
Thank you to our concert sponsors Lamaze International, TriStar Health, 12South Yoga, Village Real Estate Services, Delbert McClinton and Wendy Goldstein, Trey and Lisa Calfee, and Phil and Reedy Hickey, and all our generous auction donors! Special thanks to our organizing team led by Barbara Nicholson and Wendy Goldstein.
Couldn't make it? - well enjoy this API exclusive from the concert! An amazing performance of Gary Nicholson and Ana Egge's new song "Rock Me" by Beth Chapman, Jonell Mosser, Siobhan Maher Kennedy, and Carmella Ramsey.
---
Now Available! "API's 8 Principles of Parenting" From API's 15th Anniversary Think Tank Event
Register now to listen to Lu Hanessian host two hours of enlightening and encouraging pre-recorded discussion from API's 15th Anniversary Think Tank Event featuring Dr. William Sears, Martha Sears, Dr. James McKenna, Ina May Gaskin, Dr. Isabelle Fox, Mary Ann Cahill, Barbara Nicholson and Lysa Parker.
Enjoy the exchange among these experts, listen to their responses to questions of our time, and hear their answers to questions from the audience. Make your purchase now at the regular API Live teleseminar price -- before the price goes up. Enjoy this special value as our holiday gift to you!
Past Events for 2012

January 23, 2012 - Playing for Keeps: Play that Keeps Love, Creativity, and Belonging First, featuring international play expert Fred Donaldson. Monday, January 23, 2012 at 9pm EST/6pm PST. Dr. Fred Donaldson has played with thousands of people all over the world. Don't miss this interview with a rare and wise man who knows how power of play can heal us all. Register now to listen live to the teleseminar and receive a downloadable recording of the teleseminar.

March 9 - March 11, 2012 - Hear API Advisory Board member, James McKenna, PhD, and other noted speakers, present at the La Leche League of Illinois Breastfeeding Conference in March.
La Leche League of Illinois presents, "Breastfeeding, Roots to Wings" at the Holiday Inn, Schaumburg/Rolling Meadows, IL on March 9-11, 2012. Early registration deadline is fast approaching. Online Registration is LIVE and ready to go! Please come and register now. Come for one speaker, one day or all 3 days.
Hear from speakers including Dr. James McKenna, Director of the Mother-Baby Behavioral Sleep Laboratory at Notre Dame University, who studies how sleeping and co-sleeping environments affect mothers, breastfeeding, and infants' physiological and psychological well-being and development (CERP session); Diana Cassar-Uhl, IBCLC, passionate about being an agent for change -- come listen to her presentation on Vitamin D and its role in breastfeeding mothers, and supporting mothers with mammary hypoplasia/insufficient glandular tissue (CERP session); and Marian Tompson (LLLI founder), featuring her newest book, Passionate Journey, My Unexpected Life.

April 18 - 20, 2012 - Attachment Parenting International is pleased to be a nonprofit sponsor of the 9th Annual Young Child Expo & Conference 2012 in New York. The Young Child Expo & Conference offers useful information to professionals and parents in order to help all young children learn, grow and reach their full potential. This conference brings more than 1000 people together across all kinds of programs, disciplines, and interest areas from speech pathologists to parents, to those working in children's museums, day care centers, preschools, and those working with children who have autism, attention deficit hyperactivity disorder, or other special needs. In one unique event, this conference integrates learning about typically developing children as well as those with special needs, including autism. Meet Bob McGrath (original cast member of Sesame Street), Maria Hinajosa (of NPR fame), John Archambault (author of Chicka Chicka Boom Boom). and Raun Kaufman (from the Son-Rise program). Seating is limited and group registration discounts are available. For all details and online registration go to www.youngchildexpo.com.
July 22, 2012 -Barbara Nicholson, Lysa Parker, and Janet Jendron represented API at the July 2012 Bellies to Babies event in Atlanta. The event raised money to help train and expand midwifery locally and worldwide. Mayim Bialik was the keynote, as was the mother of all midwives, Ina May Gaskin. Mayim has been an excellent spokesperson for the AP movement, and letting people know about API, especially since the TIME magazine controversy. Read more about the Foundation and the event.
Pictures from the event: (click to view larger, in a new window)
---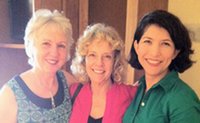 June 22 - 24, 2012 - API Board members Barbara Nicholson, Janet Jendron, and Gena Kirby (shown, L-R) attended the La Leche League of Texas 2012 Area Conference, in Dallas.
Barbara and Janet presented two sessions at the 2012 Texas LLL Area Conference:
Attachment Parenting and Breastfeeding in the Media - A discussion and Q &amp A session on how to communicate with the media on topics such as the recent TIME Magazine article.
The Unexpected Benefits of Attachment Parenting - Our choice to practice attachment parenting not only makes a profound impact on our children, but also on our families. How the chemistry of attachment and its emotional, practical, physical, and spiritual benefits profoundly impact children, parents, others in the world, our society and our culture.
Pictures from the event: (click to view larger, in a new window)
---