Past Events for 2008
December 15 & 16, 2008 - Pam Leo, author of Connection Parenting: Parenting Through Connection Instead of Coercion, Through Love Instead of Fear, will be hosting two free teleclasses. The first will be held on 12/15 at 8:30 pm Eastern and the second on 12/16 at noon Eastern. Register now via The Consciously Parenting Project website.
December 13, 2008 - API co-founder Barbara Nicholson will be speaking at the Pregnancy and Birthing Choices Seminar at Vanderbilt University on Saturday, December 13, 2008 from 9:00 am until 3:00 pm. Please visit the workshop homepage for more details on "Our Bodies, Our Babies: Exploring Birth and Parenting Choices for the Whole Family."
November 28, 2008 - Centre for Attachment presents the Meaning of Motherhood Conference, AUT Conference Centre, Auckland, New Zealand.
Motherhood, despite being perhaps the most foundational and influential force in our lives, is an often overlooked concept when it comes to political discussion, child development, or the meaning of work. Now, for the first time, a conference is being devoted to this topic.
This conference aims to enliven the myriad of perspectives and feelings behind the institution of motherhood, while simultaneously connecting the voices of mothers and the dots of policy.
Our keynote speakers, Naomi Stadlen from London and Anne Manne from Melbourne, will speak to the themes of 'Mothers Talking' and 'Mothers Questioning.'
November 17, 2008 - An Intimate Evening of Blues API Fundraiser in NYC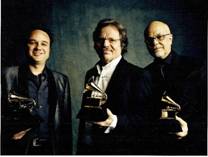 A BIG API THANK YOU goes out to our legendary bluesmen friends Delbert McClinton, Gary Nicholson and Kevin McKendree for their generous and outstanding performance in NYC on Monday November 17 to benefit API. The event was an unqualified success – guests are still calling and emailing to rave about the rare experience of seeing these world-class musicians in an intimate setting. It was an awesome evening and we thank you from the bottom of our hearts gentlemen!!!!
November 10, 2008 - Dr. Harvey Karp to appear on Ask API Live!
Don't miss your chance to ask Dr. Harvey Karp how you can be the Happiest Parent on the Block on Ask API Live, Monday, November 10th, 9pm Eastern/6pm Pacific.
Listen as API Co-Founder and co-author of Attached at the Heart Lysa Parker and former NBC anchor Lu Hanessian discuss how parents can create more joy and balance in their parenting journey.
You can support API's mission and take advantage of the knowledge and experience Ask API Live's special guest by registering today. Every dollar of your registration fee goes toward education, support and outreach for parents in need.
October is Attachment Parenting Month! Visit the AP Month web site during the month of October for tips on the theme of "Giving Our Children Presence", activities, and events near you!
October 29-31, 2008 - Chicago Health Connection 2008 Networking Conference, Chicago, IL. Lysa Parker and Barbara Nicholson will be presenting a session on attachment parenting with API board member Reedy Hickey.
October 27, 2008, 9pm Eastern - Getting Real with Ourselves -- and Our Kids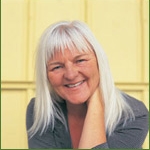 with special guest Peggy O'Mara
October 17-19, 2008 - La Leche League of Washington Area Conference, The Caring Continuum. Marriott Redmond Towne Center, Redmond, WA, Lysa Parker and Barbara Nicholson will be presenting sessions along with Marian Tompson, La Leche League Founder, Pam Leo, author of Connection Parenting, Jan Hunt, founder of The Natural Child Project. Read an article about this event here. For more information go to LLLI.org. Lysa and Barbara will be promoting their new book and doing a book signing at this event.
Join API Co-Founder and co-author of Attached at the Heart Barbara Nicholson and former NBC anchor Lu Hanessian in a frank discussion of why it's so difficult for parents to be real with their children, and each other, with Mothering Magazine Editor-in-Chief Peggy O'Mara.
Topics include:
authentic parenting: obstacles to living our truth and modeling it
all wired up but disconnected: can you hear me now?
how we learn to doubt our authentic needs as early as infancy
reclaiming our intuitive voice and trusting it in a sea of misinformation and naysayers
learning to enjoy our own presence in order to truly embrace our children
Register today at Ask API Live: ask.attachmentparenting.org
October 6, 2008, 9pm Eastern - The Myth of Perfect Mothering with special guest Martha Sears
Join API Co-Founder and co-author of Attached at the Heart Lysa Parker and former NBC anchor Lu Hanessian in an energetic discussion of the Myth of Perfect Mothering with Martha Sears.
Topics include:
the pretense of perfect mothering: why do we fake it?
parent meltdowns: why we lose it and how to find it again
why we're not present even when we're there
deciphering and dismantling our disappointment and regret
healing the heart of depression
from emotional roller coaster to presence of mind
from full mind to mindful: harnessing chaos and transforming it into centered connection
Register today at Ask API Live: ask.attachmentparenting.org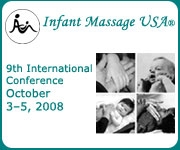 October 3-7, 2008 - Please join Infant Massage USA for the International Association of Infant Massage - Sweden 9th International Educational Conference and General Assembly in Denver, Colorado at the Omni Interlocken Resort. The conference takes place Friday, Saturday, and Sunday, October 3rd - 5th and is followed by the General Assembly Monday & Tuesday, October 6th - 7th. Speakers include API Advisory Board member Stephen Bavolek of Nurturing Parenting; Douglas Teti, Faculty of Penn State University's Child Study Center; and Carole Oleksiak, board member of World Association for Infant Mental Health.
Highlights include honoring Vimala McClure, author of Infant Massage: A Handbook for Loving Parents and founder of the International Association of Infant Massage, and Audrey Downes, founding director. Barbara Nicholson will be doing a book signing during the event for the new book by she and Lysa Parker.
Register by August 29th for best prices.
September 26-28, 2008 - Saving Our Kids, Healing Our Planet Green Expo at the Charlotte Convention Center. API will be exhibiting at this wonderful event and we hope to see you at our exhibit booth. SOKHOP, a green expo focused on how to raise healthy children in a toxic world, will bring together, renowned medical doctors (MDs), authors, activists, celebrities, chefs, nutritionists and more who will provide credible information on naturally oriented, yet scientifically based options for parents, teachers, therapists, pediatricians, etc. who are seeking effective ways to prevent and reverse the health and behavioral problems that are negatively affecting our current generation of children. In addition to informative lectures and high quality exhibits, there will be an area called "Planet Kids" which will feature live "world" music, storytellers, puppet shows, yoga demonstrations, Earth Fare sponsored "tasty snacks that kids will love, " REI sponsored camping workshops and science experiments connecting children to nature. There will also be lots of tasty snacks and eco-friendly samples to try, taste and take home!
September 26, 2008 - Attachment Parenting International is hosting an informational gathering at the Olive Garden in Concord, NC near the Concord Mills Mall on Friday, September 26 at 5:30 pm with co-founders Barbara Nicholson and Lysa Parker. Mothers, fathers, children, grandparents and supporters interested in learning more about API and becoming a Support Group Leader or member are invited to come. Please join API for a free round of hors d'oeuvres and then stay for dinner, dessert or drinks and visit! We hope to see you there! Please let Stephanie Petters know if you plan on attending. Contact number: (423) 956-3525
September 24-27, 2008 - 20th Annual ATTACh Conference. Co-Founders Barbara Nicholson and Lysa Parker will be attending this conference in Charlotte, NC, to talk about and sign their new book. Conference details are online at http://attach.org/2008confinfo.pdf.
September 22-26, 2008 - API Reads. Attention all API Reads Participants!!! Come join in an online discussion with leading author and Attachment Parenting advocate, Jan Hunt. She will be taking time to sit down with our API members and premium forum subscribers to have an online discussion with you on the book, The Natural Child: Parenting from the Heart. To help prepare you for this discussion, please join the API Reads program in reading and discussing together The Natural Child: Parenting from the Heart for the months of August and September.
If you are already a paying API member, you will have access to this forum automatically. Please send your first name, last name, address, and forum ID to Stephanie Petters if you are interested in participating in the discussion with Jan Hunt. Not a member? How about joining today? Not interested in joining but you would like to participate in the forum? Please visit this link to subscribe.
The discussion with Jan Hunt will be September 22-26. So that Jan and you can truly participate in the online discussion together, please make sure you have read or are reading the book. Need a copy of the book? Please check API's store or purchase from Amazon.
September 18, 2008 - Susan Martinez, a professional API member, will be presenting at the Zarrow Mental Health Symposium in Tulsa, OK, on September 18th on the topic of Attachment Parenting. During her presentation she will be referencing API's Eight Principles of Parenting. This presentation will be held from 3:30-5:00 pm.
August 15 - 16, 2008 - 36th Annual Seminar for Physicians on Breastfeeding: Partnering for Optimal Lactation Management and Support. The Westin Providence, Providence, RI. Join La Leche League of the Eastern US for this important seminar.

July 18 - 20, 2008 - La Leche League of Texas Area Conference, Changing Our World, One Texan at a Time. It will be held at the Dallas/Ft. Worth Airport in Irving, TX. Barbara Nicholson and Lysa Parker will be presenting keynote and general session presentations. For more information go to LLLI.org. Lysa and Barbara will be promoting their new book and doing a book signing at this event.
July 11 & 12, 2008 - API's Parent Education Certification Course, Cape Cod, MA. Register to attend API's premier Parent Education Training Course. Receive professional training, materials, certification and follow-on support to teach API's Parent Education Classes in your community.
June 27, 2008 - Billy Dean & Friends Benefit Concert. Would you enjoy seeing and listening to a wonderful recording artist and multiple talented singer/songwriters? Would you love to support API at the same time? Then you will surely want to come to the "Billy Dean & Friends Benefit Concert"!
May 19 - 23, 2008 - Book of the Month Forum. Join authors Sura Hart and Victoria Hodson Kindle, the authors of Respectful Parents, Respectful Kids, in API's first premium book of the month forum. For a subscription fee of $4.99, members will be able to engage in lively discussion with the authors and other forum members. In addition to the week-long live discussion, the subscription will also include 30 days access to the discussion archives so that you can be sure that you don't miss a thing! Visit the Book of the Month Forum for details. You will need a forum login/password to participate in this forum. For more information, visit our forums.
May 17 - 18, 2008 - Whole Child, Whole Planet Expo, Highland Hall, Waldorf School Campus, Northridge, California. API will be exhibiting at the Expo and the Founders will be participating in panel discussions with Dr. Isabelle Fox. For more information go to WCWPExpo.com.
March 31, 2008 - Listen as Barbara and Lysa discuss their new book and what's in store for Attachment Parenting International.