Past Events for 2011
January 14-16, 2011 - API invites you to check out the Consciously Parenting Project's January 14-16, 2011 Virtual Conference, "Navigating the Current." Click here for information
April 11-15, 2011 - Volunteer Recognition Week: API invites you to help us observe Volunteer Week by recognizing and thanking all of our wonderful volunteers. Our special newsletter is dedicated to sharing with you by name each of those who serve, features on a few of our volunteers to give you a snapshot of who's behind the work, a valuable reflection by our API Volunteer Liaison, and some highlighted volunteer opportunities you may find to be of interest.
June 9, 2011 - Join our Live Interactive Discussion about Attachment
Free Online Speaker Series: June 9th at 5 p.m. (EDT) / 2 p.m. (PDT)
Secure Attachment as the Foundation of Emotional Well-Being
Children who form secure attachments with their parent(s) or caregiver(s) typically have a secure, coherent sense of self in adulthood. Listen to experts discuss the mechanisms that help foster secure attachments, learn about the importance of forming secure attachment, and see how attachment affects you and your loved ones. You'll also find out how you can "earn" security in adulthood and why the pathway to emotional well-being in marriage is rooted in understanding our attachment stories.
Featuring:
Dr. Dan Siegel: Clinical professor of psychiatry at the UCLA School of Medicine, Co-Director of the Mindful Awareness Research Center, author of The Developing Mind: How Relationships and the Brain Interact to Shape Who We Are
Dr. Sue Johnson: Director of the International Center for Excellence in Emotionally Focused Therapy, Professor at Alliant University and at the University of Ottawa, author of Hold Me Tight: Seven Conversations for a Lifetime of Love
Dr. Ruth Newton: Therapist, author of The Attachment Connection, Director of the Newton Center for Affect Regulation
Dr. Ed Tronick: World class researcher and teacher recognized internationally for his work on the neurobehavioral and social emotional development of infants and young children, parenting in the U.S. and other cultures, and infant-parent mental health
Moderated by Lu Hanessian: award-winning journalist, former NBC anchor, author of forthcoming title Return to Tender and founder of Parent2ParentU.com
Visit earlymomentsmatter.org to learn more about the topics covered in this webinar and to get an early attachment toolkit for yourself or a loved one. The Early Moments Matter toolkit provides you with tools, tips, and insights to help ensure the long-term emotional well-being of your child.
It includes a:
30-minute DVD and quick-reference guide answering attachment and parenting questions
5 Small Steps with Long-lasting Effects magnet
10 Ways to Connect with your Baby bookmark
July 25, 2011 - API Live - Playful Parenting: More Than Fun - with special guest Dr. Larry Cohen
Register for this API Live! teleseminar event and hear hosts Lu Hanessian, author of the new playful book for parents and children: Picnic on a Cloud, and API co-founder Lysa Parker talk with Dr. Larry Cohen about:
What is Playful Parenting and what does it have to do with attachment security?
Will my children know how to take life, or take me, seriously if we're playful?
What does playful parenting have to do with confidence building and helping children resolve problems?
What is the impact of parent playfulness on my child's development and emotion?
Can being playful make me a better parent?
Can it make parenting more satisfying, more fun for me?
I'm not so playful naturally. What do I do?
When roughhousing, how do we help it end on a happy note?
Your questions about playful parenting
And Larry Cohen's favorite playful parenting ideas you don't want to miss
Register now to attend live or receive the mp3 recording. Submit your questions in advance by email. Sponsored in part by the Million Minute Family Challenge.
July 25, 2011 - Progressive Parenting radio: Feeding with Love and Respect, with Martha Sears, Marian Tompson and Ann Sinnott
It's a full night of AP info! Tonight, one hour after the API Live interview, don't miss "Progressive Parenting's radio interview with Martha Sears, Marian Tompson, and Ann Sinnott on the topic of Feeding with Love and Respect", starting at 11:00 EST/8:00 PST. This is the second week in an 8-week series with Blogtalk Radio, highlighting the principles of attachment parenting. Topics will include breastfeeding, bottle feeding and nutrition. Don't miss it -- set a reminder here!
August 8, 2011 - Progressive Parenting radio: Use Nurturing Touch, with Janet Jendron
Gena Kirby of Progressive Parenting will be talking with Janet Jendron at 11 p.m. (EST) about API's Principle 4: Use Nurturing Touch. Babies are born with urgent and intense needs and depend completely on others to meet them. Nurturing touch helps meet a baby's need for physical contact, affection, security, stimulation and movement. Parents who choose a nurturing approach to physical interactions with their children promote development of healthy attachments. Even as children get older their need to stay connected through touch remains strong. This will be a wonderful conversation!
Sign up for a reminder to listen in on Monday evening. This is the fourth in an ongoing series of conversations about API's Principles of Parenting. Listen to past episodes here.
September 15-18, 2011 - Lamaze International 2011 Annual Conference
Visit API's Booth at the 2011 Lamaze Conference! Can't attend the Conference? Consider the Virtual Conference!
September 23-25, 2011 - La Leche League of North Carolina Area Conference
API Board Members Martha Sears and Janet Jendron are guest speakers at the 2011 LLL of NC Area Conference on Breastfeeding and Parenting - Trails and Trials: Pathways to Parenting, September 23-25, 2011, at the Sea Trail Resort, Sunset Beach, NC.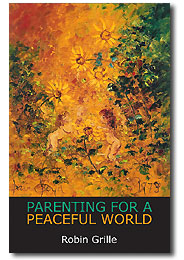 September 26, 2011 - New API Live! Teleseminar with Robin Grille on Peaceful Parenting
Register now for the Monday, September 26th API Live! Teleseminar with Robin Grille. Understanding our children's needs and moving societies toward peace -- all in a day of parenting. Submit your questions for Robin by email. Can't make the teleseminar? Register and receive the mp3 recording after the program.


October 1, 2011 - Natural Living Conference
Be sure to visit API's Booth at the Holistic Moms Network 8th Annual Natural Living Conference -- Holistic Parenting: Mind, Body, and Spirit, October 1, 2011, in Irvine, CA!

October 15, 2011 - API Board Member Reedy Hickey will speak at the La Leche League Great Britain National Conference 2011 on "Tick, Tock: Parenting by the Clock" (strategies for helping mothers handle conflicting information, including scheduled feeding and sleep training) and also on "Empowering Mothers To Succeed" (strategies and suggestions on how to overcome the avalanche of information and messages women are often swamped by in the last few months of pregnancy and the first few weeks of breastfeeding). For registration, hotel, program information and more, visit LLLGB.
October 1-31, 2011 - Attachment Parenting Month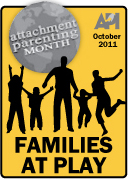 Pressures are high and patience is low as parents raise their children amid greater economic stress, but playing with children relieves the stress of parenting and work! Attachment Parenting International reminds parents there is more to play during this October 2011 Attachment Parenting Month. During AP month, parents are challenged to re-examine their daily activities and traditions and learn new ways to engage respectfully with their children, in play, as a way to grow with each other and remain close. The month is marked by celebrations and awareness raising by API's non-profit global network of parenting support groups with more than 60 chapters in the U.S. and abroad, along with partners, AskDrSears.com, Mothering.com, international play expert Fred Donaldson, the Million Minute Family Challenge, Pure Play Kids, Dr Sears L.E.A.N, and Infant Massage USA under this year's theme, "Families at Play: Nurturing Parent-Child Relationships through Play."
October 18-31, 2011 - Place Your Bids Now! API's Online Auction is open for bidding! Tell your friends!
Whether you're looking for something unique for yourself, searching for a gift for a special someone, or looking to add a little adventure to your life, you're sure to find something in our auction. Every bid helps support our cause, so make your bid on these great values!.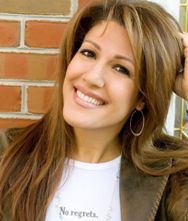 October 24, 2011 - Exploring our Parental Fear of Play and How to Restore and Cultivate Wellbeing, Reconnection, and Playfulness in Ourselves for Healthy Relationship, featuring Lu Hanessian. Monday, October 24, 9:00 pm EST/6:00 pm PST. Register now to listen in live or receive the recording after the live program to listen at your convenience. Submit your questions now by email.