Here's your complimentary issue of
API Links, linking you to...

... news on the importance of babywearing, anti-bullying programs, empathy and compassion, the future of breastfeeding, and much more.

Desperate Breastfeeding Moms Reveal Secrets
API's own staff member Suzanne Reese is featured in this article!
Suzanne Reese found that when it comes to breastfeeding, sometimes doctors and counselors don't have answers.
All newborn babies cry, but Anika Reese seemed to be in a category all her own. She screamed in pain nearly all the time, grabbing her own little cheeks so forcefully she sometimes drew blood. Her mother, Suzanne, describes Anika's first four months as "living in hell with an angel."

SIDS Spikes on New Year's Day
Not a happy holiday thought, but an important one: The number of babies who die of SIDS, or sudden infant death syndrome, surges by 33 percent on New Year's Day. The suspected reason? Alcohol consumption by caretakers the night before.
---
---
API's Annual Appeal Needs Your Support

Your contribution of $5, $10, or more helps API bring secure attachment, compassionate parenting, and support to more parents and professionals. The value of your gift is great because prevention dollars are so cost effective. Read more about API's programs, plans, and impact and please give today.
Thank you for working with us to make a difference.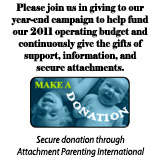 Your donations help us to reach millions of families through web and support groups. With your help, we can continue supporting families like yours with information and programs.
Please make your gift today.

Why Support Attachment Parenting International

Honors, Tributes, and Memorials
---
---
Anti-Bullying Program Reduces Malicious Gossip on School Playgrounds
Elementary school students who participated in a three-month anti-bullying program in Seattle schools showed a 72 percent decrease in malicious gossip.
Majority of U.S. Adults Had Troubled Childhoods
Study finds nearly 60 percent of adults lived with abuse or other difficult family situations.
What, Me Care?
A recent study finds a decline in empathy among young people in the United States.
---
API Reads
We've just finished our forum chat with Dr. Sears and Martha Sears. I hope you enjoyed reading the posts and will come back this month and next for their final chat on nutrition. We're still reading The Healthiest Kid in the Neighborhood and will finalize our reading at the end of January.
 
In February we'll start reading Instead of Medicating and Punishing: Healing the Causes of Our Children's Acting-Out Behavior by Parenting and Educating the Way Nature Intended by Laurie Couture; this will also include an author chat with Ms. Couture as well. What a great benefit to our members! To find out more about this author and this book, please check API's past 15th Anniversary edition of The Attached Family, Volume 12, No. 4. To quote one statement from the article regarding the book: "Everything that's in your book you use every day with the families who come to you for help with the childhood behavioral issues."
Prepare for Pregnancy, Birth, and Parenting
Bonding with Newborn Baby: Once Upon a Time in the Intensive Care Unit ...
The first few days after birth is an important time when babies learn to recognize the sound of their parents' voice and the parents in turn bond with their children. However, the separation between parents and newborns admitted to the intensive care unit can be very difficult and can disrupt the early development of this relationship.
Mom Defies Doctor and Has Baby Her Way
It was her obstetrician wanting to know where the heck she was. Did Aneka forget that today was the day for her cesarean section? How could she have forgotten? No, Aneka hadn't forgotten. She hadn't shown up intentionally.
Feeding with Love and Respect
Study Finds Age 16 "Tipping Point" of Unhealthy Lifestyle
Novel research has tagged age 16 as the "tipping point" when unhealthy lifestyle habits take hold, paving the way for various disorders and diseases in later years.
Healthy People 2020 Objectives Combat the Barriers to Breastfeeding: 
USBC Publishes New Resource to Address Hospital Barriers
Social and environmental support for breastfeeding has been brought to the forefront of our nation's public health priorities with the launch of the Healthy People 2020 (HP2020) agenda by the U.S. Department of Health and Human Services. HP2020 objectives will continue to track national breastfeeding rates, but new objectives will also address recognized barriers to breastfeeding success. New targets will focus attention on worksite support and maternity care practices: areas that often present obstacles for breastfeeding mothers.
Sign On: USBC Breastfeeding -A Vision for the Future
Have you signed the petition? They need 15,000 signers. Download "Breastfeeding: A Vision for the Future" - it's worth reading.
Not All Infant Formulas Are Alike: Differential Effects on Weight Gain
New findings reveal that weight gain of formula-fed infants is influenced by the type of formula the infant is consuming. The findings have implications related to the infant's risk for the development of obesity, diabetes, and other diseases later in life.
Mother's Milk Improves Physical Condition of Future Adolescents
Breastfeeding newborn babies has lots of advantages in the short and the long term for babies. A study has confirmed the recently discovered benefits: Adolescents who are breastfed at birth have stronger leg muscles than those who received artificial milk.
---
Jan Hunt Issues a Challenge
There is much agreement that the U.S. needs better maternity and paternity leave policies but, while a recent review of 50 years of research finds that "Children whose mothers return to work before their offspring turn 3 are no more likely to have academic or behavioral problems than kids whose mothers stay at home," author Jan Hunt issues a challenge to rethink the value of motherhood, to the extent that perhaps government policies should reflect this revised value. API posed this poll question to find out what our readers would do:

"If our environment were one of emotional and financial support and recognition of motherhood's value, I would:
    __Choose mothering over another profession. 
    __Pursue a profession in addition to motherhood."
Differing significantly from the Hunt article comments, results so far are in favor of mothering over another profession in a mothering-supportive environment - 77% to 18%.

---
Responding with Sensitivity

Why Compassion Can Win War Against Poverty: A Conversation with Lesley-Anne Knight
Caritas Internationalis is a rare case in the nonprofit industry. As many charities suffered income declines in 2009, the Vatican-based global organization saw its total income jump 300 percent!
The Power of Connection
From TEDxTelAviv: "Clinical psychologist and a couple and relationship therapy expert, Hedy Schleifer "crosses the bridge" with TEDxTelAviv audience and brings laughter and passion to the adventure of learning the art of listening."

The Power of Mindsight
From TEDx: "Dr. Daniel Siegel explores the neural mechanisms beneath social and emotional intelligence and how these can be cultivated through reflective practices that focus on the inner nature of the mind. 
Daniel is a child psychiatrist, educator, and author of Mindsight, The Mindful Brain, Parenting from the Inside Out, and The Developing Mind."
Too Young for Respect? Realising Respect for Young Children in Their Everyday Environments: A Cross-Cultural Analysis
"'Children should be seen and not heard'. Dismissive statements like this one about children, especially young children, are heard in various societies and express a trivialisation of childhood that is often taken as justified." This paper from the Bernard van Leer Foundation explores the conceptual underpinnings of  disrespect shown to young children in everyday life in cultures around the world."

The Peace Corps Alum Who Changed American Parenting
Here's another addition to the list of former Peace Corps volunteers who've gone on to do great things: Colorado nurse Ann Moore, an inventor who did a lot to improve American parents' bonding with their young children.
---
---
More Than 3,500 Have Watched It Already: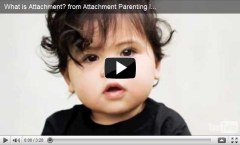 While many debate what attachment parenting is, this short video written and produced, and song composed and performed by our creative and passionate Board Member Lu Hanessian, captures the essence.

Please enjoy this special video gift from the heart of API.
---
---
Ensure Safe Sleep, Emotionally and Physically

Wake Up, Mom: Gender Differences in Accepting Sleep Interruptions
Working mothers are two-and-a-half times as likely as working fathers to interrupt their sleep to take care of others. That's the finding of a University of Michigan study providing the first known nationally representative data documenting substantial gender differences in getting up at night, mainly with babies and small children.

---
---
Special Section: Attachment, Learning, and the Brain
Mom's Voice Plays Special Role in Activating Newborn's Brain
A mother's voice will preferentially activate the parts of the brain responsible for language learning, say researchers from the University of Montreal and the Sainte-Justine University Hospital Research Centre. The research team made the discovery after performing electrical recordings on the infants within the 24 hours following their birth.
Back-Packing Mommas and Brainy Babies
Did early human mommas create slings to help develop bigger brains?
Breastfeeding Benefits Boys' Brains
Breastfeeding for at least six months has been associated with enhanced immunity and other benefits for children - but a prospective study from Australia suggests breastfeeding may also yield academic benefits later in a child's life, at least for boys.
Dr. Gabor Maté on the Stress-Disease Connection, Addiction, Attention Deficit Disorder, and the Destruction of the American Childhood
From disease to addiction, parenting to attention deficit disorder, Dr. Maté's work focuses on the centrality of early childhood experiences to the development of the brain, and how those experiences can impact everything from behavioral patterns to physical and mental illness. While the relationship between emotional stress and disease - and mental and physical health more broadly - is often considered controversial within medical orthodoxy, Dr. Maté argues that too many doctors seem to have forgotten what was once a commonplace assumption, that emotions are deeply implicated in both the development of illness, addictions, and disorders ... and in their healing.

---
---
Strive for Balance in Personal and Family Life

New from BlogHer: Attachment Parenting: Embracing Balance
"I've been questioned by those who take the 'Attachment' part of Attachment Parenting a bit too literally: 'Do you mean you're one of those moms whose baby is always strapped to her or latched on to her breast?' Well…no, not ALWAYS. While baby wearing and breastfeeding are often integrated into AP parenting styles, they are not, contrary to popular belief, strict requirements that must be met in order to claim the Attachment Parent title...."

The API Forum is... Information, Conversations, Questions, Answers... Community
The Forum is a community of parenting support and it's always open to read posts and it's free to join. Balance can seem elusive to a parent! The API Forum can offer the support you need--and you may just be the support someone else needs. The Forum can help you connect to a local API Support Group too. Check out this API Leader's effort to help you maintain balance by engaging in this upcoming year-long plan for self-care and mindfulness.
Dear Supporter,

One of the articles this month - "Once Upon a Time in the NICU" - touched my heart.
My first child was born at 26 weeks, just over 2 pounds. I remember those first few days, when I was allowed on lay only one finger on him, for fear that strokes would tear his skin. Holding him was simply out of the question for the first week.
That was a long week.
I had to improvise my plans for nurturing my baby. Instead of holding or rocking or breastfeeding, I sang, read, and talked to him. I hovered over him, breathing on him and watching him sleep.
I had never heard of Attachment Parenting. Indeed, API had started just a short time before my son was born. I only knew that my instincts were telling me to bond with my baby in whatever way possible.

I became a fixture in the NICU; either my husband or I were there every possible moment. The cleaning staff mopped under my feet, the nurses moved my arms to check my baby's vitals as I held him in kangaroo care, and I got the nickname "The Dairy Queen" for the sheer volume of breastmilk I pumped.
My micropreemie never had to be on oxygen, and he came home still six weeks early, at 34 weeks gestationally. They called him the Miracle Baby for his strength and progress. My explanation? Attachment. Who knows if my explanation is accurate, but I know that attaching myself to my baby very early - in that last "trimester" when most babies are floating warmly in their mothers' bellies - couldn't have hurt. 
That was more than 14 years ago, and my bond with my son is still strong and vital - that's something I'm awfully proud of, considering the  stories I hear about teenagers these days (see "What, Me Care?").
This month's articles have lots more to offer in terms of baby's  development and long-term security. Read through them to find the answers to these questions:

- Which came first? The sling or the bigger brain?
- What about teens, empathy, and healthy eating?
- How does Mom's voice affect Baby's brain?
- What does breastmilk do to boys' brains and adolescents' legs?
- How does one blogger embrace balance?
Thanks for reading, and hug your kids!
Camille North,
API Links Editor
Please let us know what you like and what could be better about Links.

API is a free enewsletter, dedicated to bringing you information to support you in your parenting journey.
---
In Honor of...

In Honor of
Jasmine, Brandy, and James
~ Patricia Corbitt

In Memory of Marie Leonard
~ Marian Tompson

In Memory of everyone longing for a secure attachment
~ Vicki Rissmiller

In Memory of Terri Murray
~ Terri Murray

In Honor of Janet Jendron Thanks to JJ for being such
an amazing woman and for everything she has done
for LLL and API!
~ Alice Ziring

In Honor of Barbara Nicholson
To the best mom I know.
~ Jill Flowers

In Honor of Twin Cities (Minnesota) Attachment Parenting International
Thanks for all your hard work!
~ Barbara Morgan

In Honor of Martha Sears
This is to honor Martha Sears,
my mom, on her birthday.
I know she would want
nothing better for her birthday than to help parents be
supported in their attachment
with their children. 
Love you mom!!! Love, Hayden
~ Hayden Livesay
---
Check Out What's Going on with AP Kids!
Find out what AP parents are bragging about. And brag about your own kids! Here, every accomplishment is welcome ... from the small to the large.
Come and get inspired!
---
API invites you to check out the Consciously Parenting Project's Virtual Conference,
"Navigating the Current."
January 14-16, 2011
---
Don't Have Time to Read? Check out our January Promotion!

We're ringing in the New Year with an 11% discount off of any teleseminar! Perfect for when you don't have time to read! Or pass along a teleseminar to your spouse or partner! The more support we can provide to you, the better the chances of making a difference in your community. To take advantage of the 11% discount enter in the code JMTL2010.


Each API Live teleseminar brings you insight and encouragement. Listen to Dr. James McKenna on sleep, Dr. Jean Illsley Clarke on what our kids need, Dr. Sears on child health, Susan Stiffelman on power struggles, Nadine Block on spanking, Lu Hanessian on making mistakes, Scott Noelle on parenting together, Ina May Gaskin on birth, Naomi Aldort on behavior, Kathleen Kendall Tackett on post-partum depression, Gordon Neufeld on attachment and older children, and so many more.

Want more savings? Become an API member today and receive the teleseminars for only $9! Wow!!!
---
Do Well and Do Good...
Support the mission of API and connect with your target audience.
to help you create
an advertising package to fit
your message and budget.
Advertising/Sponsorship deadline for the next The Attached Family magazine--the Special New Baby annual edition--is February 1.
---
Winter Sale on Children's Books in the API Store!

Help our API Store Manager lighten her moving load and check out these featured children's books available at 10% off the listed price:
It's a Beautiful Day for a Walk

It's a Beautiful Day for Yoga
Supplies are limited and last day to ship items is January 17.
---
Order Now for the February Valentine's API Store Special
For those you love:
is only $14.95!
Orders will ship the first week of February
---
API is proactively engaged with organizations with diverse missions and activities in order to leverage and expand our work in supporting all parents, children and families to promote secure attachments and strong, positive relationships.
---
API Leaders change lives. New feature: You can now apply online and learn more!
---
Did You Have an Aha! Moment Reading One of These Links?
If so, we couldn't be more pleased to serve you. Help us serve others too. Please consider donating $20, $10, or even $5. API is a non-profit organization and it depends on your tax-deductible donations.
---
Photos by quinet from here and here.
---
Quick Links
---