Dear Supporter,

"I really hope I get a tie for Father's Day," said no man ever. Tools, grilling accessories, "World's Best Dad" mugs … are those any better?

What is this day really about? It's to honor the fathers in our lives, right?

This year, instead of honoring the act of fathering that the men in our lives do for their own children, I'd like to honor those fathers who have led us to where we are. The men - fathers, grandfathers, uncles, godfathers, brothers, neighbors - who had an impact on how we now parent.

For all those fathers ... the ones who bounced us, who hugged our boo-boos away, who cuddled and snuggled ... for those who carried us on their shoulders, who who picked us up when we fell, who learned how to braid hair, who showed us how to tie a rope or push a lawnmower ... and yes, even for those who were a bit distant, who spoke with an edge to their voice, or who perhaps even were neglectful ... for every father who had an impact on your life ... he led you to where you are today.

We can't know what went through his mind, what demons he battled, what scars he nursed, what his role models were … no matter what his history, and yours, he guided you, at least in part, to this place. This part of your life where you can be the best parent to your own children. He played some role in showing you what you want for your children, and perhaps what you don't (which sometimes is even more important).

Let's honor the influence of our fathers - in whatever form he took - for the path that he journeyed with you and for the part that he contributed to your life now as a parent: an attached parent, one whose goal is what's best for your children.

Here's to you, Dad/Pop/Daddy/Father/Papa. Thanks for leading us on this path that enabled us to be the best parents that we can be.

Scroll down to see this month's "Editor's Picks," which includes info on Neanderthal weaning, API and the recent controversy about bed-sharing, breastfeeding and mom's heart health, and communication between children and their dads.
Click on over to our new APedia site, where we give you EVEN MORE good stuff! This month we have news on
- what pediatricians have to say about "toxic stress";
- brain growth in breastfed babies;
- how formula is linked to stress and disease
- why women fail to meet their breastfeeding goals; and
- how your children's cells are LIVING IN YOUR BRAIN! It's all on our new APedia site. Check it out!

Please welcome our newest Leader, Vanessa Cain, of API of Santa Monica, California. Welcome!

Camille North,
API Links Editor

Please let us know what you like and what could be better about Links.

API is a free enewsletter, dedicated to bringing you information to support you in your parenting journey.
---
Fathers Should Ask Kids: "Am I the Dad You Need Me to Be?"
As Father's Day draws near, one psychologist says dads should ask their children for a little more feedback than they might get with the yearly greeting card.
Breastfeeding Helps Mum's Heart
Breastfeeding is not only good for baby but also good for mums, with a new study by the University of Western Sydney finding breastfeeding reduces the chances of mums developing high blood pressure even decades later.
Clinical Lactation's Special Issue on CIO and Sleep Training
This month's special issue of Clinical Lactation (Volume 4, Issue 2) is a great resource for crying-it-out and sleep-training issues. It includes articles on the harms of sleep training, ways to calm a crying baby, why CIO is bad for babies, and how to bring parents back into the decision making. 
API and Research Community Find Anti-Bedsharing Recommendations Unsupported
The emotional and physical welfare of infants is API's mission, and API celebrates the efforts and research aimed at reducing and eliminating SIDS/SUDS. The Carpenter et. al. (2013) analysis attempts an important review, but lacks sufficient data to support the very misleading headlines. Read on for API's response...

Got Milk? Our Breastfeeding Habits Are Older Than You Think
Babies' milk teeth carry their early food history, and this record remains stable for tens of thousands of years. We know at least six months of exclusive breastfeeding is the best start to a baby's life. What's amazing is it seems ancient hominids knew that too.
Check out the rest of the news here ...

---

Have you been enjoying reading Attached at the Heart with us? June is our last month for discussion of this ground-breaking book, so be sure to join the conversation before it passes you by.
Remember, our discussions happen at
GoodReads. What could be better than a book club with your girlfriends that you don't have to clean the house for!
Nurturing the Soul of Your Family is about family balance, our Eighth Parenting Principle. There are ten ideas in this book to help you and your family better connect with each other and to maintain this connection.
Get your book today! Use the links provided to help API with a commission from the purchase.
---
API Seeks Donated Items for Annual Online Auction
Friends of API donated a 7-night stay in their lovely home (pictured here). API received 100% of the winning bid. Goodwill for the donor, goodies for the winning bidder, and continued parent support from API. 
So what's in your backyard? What are your favorite businesses? What favorite products or services would you love to share?
Support API and donate to our auction! Email us.
---
See What's New in Our Store!
API has some new and exciting items in our store!
Spark of Amber Teething Necklaces and Anklets are now available. They make the perfect baby shower gift!
New item! We have a limited number of Laura Markham's Peaceful Parent, Happy Kids: How to Stop Yelling and Start Connecting. Now available for $10.98!
The Power of Parenting: The New Revolutionary Way of Raising Confident, Happy, and Successful Children
API's online store has a new book for you! The Power of Parenting: The New Revolutionary Way of Raising Confident, Happy, and Successful Children, by Steven Lorena, is now available.
Visit our store to find this and an assortment of books, dvds, journals, and audio recordings to support you on your peaceful parenting journey.
Visit us today to see all of the items we have to support your Attachment Parenting journey.
How to Get Kids Cooperating without Yelling, Bribes, Threats or Punishment
API Live! teleseminar available for purchase now!
Featuring parenting expert and author of Peaceful Parent, Happy Kids: How To Stop Yelling and Start Connecting, Dr. Laura Markham, with API cofounder Lysa Parker
Purchase now to listen or download for later!
---
---
API Volunteers Make
All the Difference
See the messages from the AP community in acknowledgment and appreciation for all that our volunteers do for families.

Thank you to all the API volunteers, from 1994 to today!
---
---
API Special Tributes Honor Your Father and Help Parents in Need

In June, API celebrates fathers. Make a donation to API and API will post your tribute to your honoree, notify them of your message, and help you learn more and share about API by sending you these great resources!
---
Picture Your Creativity
Show us your creative families! Send us photos of you and your family in your creative moments and we'll feature them during AP Month!  Our theme this year is "Parenting Creatively: The Art of Parenting!" so pull out all the stops! Up to 5 photos will be selected as features in upcoming API publications.
Get all the details here!
---
Do You Parent Creatively?
Submit a blog post from
June 10 to 14 on the theme of "Parenting Creatively: The Art of Parenting!" for a chance to be featured as a Guest Blogger during AP Month on APtly Said! 
---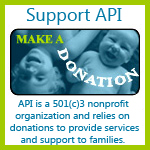 ---
Support the mission of API and connect with your target audience.
Contact us
to help you create an advertising package to fit your message and budget.
---
API is proactively engaged with organizations with diverse missions and activities in order to leverage and expand our work in supporting all parents, children and families to promote secure attachments and strong, positive relationships.
---
Want to change a life?
You can now apply online
and learn more about
becoming an API Leader!
---
Did You Have an Aha! Moment Reading One of These Links?
If so, we couldn't be more pleased to serve you. Help us serve others too. Please consider donating $20, $10, or even $5. API is a non-profit organization and it depends on your tax-deductible donations.
---
Photos by scion_cho from here
and by pratanti from here.
---
---