Dear Supporter,

Could anyone possibly love summer as much as I do?
I homeschool my three kids, and during the school year we're busy. I have two high schoolers and a middle schooler, and college applications are coming up in a year. The yes-Mom-I-still-want-to-do-Science-Team-and-archery-lessons-and-community-college-classes-and-co-op-classes-and-SAT-prep-and-AP-classes-and-novel-writing-and-music-lessons-and-robot-building-and-geography-book-editing-and-rock-band-and-non-profit-starting-and-music-organization-interning-and-girls'-STEM-group-volunteering-and-Spanish-and-Russian-and-driver's-licence-permit-and-oh-yeah-sleeping-has-to-fit-in-there-somewhere kind of busy.
But during the summer, we take a much-anticipated break and do things we don't get a chance to do during the school year. I relish getting up when I leisurely awake; doing fun projects around the house that go untouched after September; hanging out with friends that I don't see often enough; and yes, playing games and goofing off with my family all day long some days.
I often hear parents say how ready they are for school to start, and that's after the first couple of weeks of summer! So, what's the difference between those families and mine?
Here's my best guess. Because I've done my best to be as attached as possible, my kids still like me, and I like them. And as they get older, I like them more and more. (Yes, even through their teen years!)
When they were little - and I had some extremely difficult days (… and even weeks and months, I won't lie) trying to figure out this AP parenting thing - I spent almost all of my effort trying to meet the needs of my kids in a balanced way. (The rest of it went to maintaining my sanity.) Some days I failed miserably, and other days I did okay. But my kids always knew I was trying and they loved me for it. Still do.
We grew together and learned together. We figured out - pretty well - how to meet each other's needs. So now, now that they're verging on become adults, it's all paying off. I'm seeing the adults they're destined to be.
We like each other. We spend time together. We talk, laugh, joke, play together.
And I wish summer could go on forever.
*****
This month we're pleased to have two new Leaders join us! Please help us welcome Ashley Nebeker, API of Fresno, California, and Autumn McCarthy, of Collin County API, Texas.
Camille North,
API Links Editor
Please let us know what you like and what could be better about Links.

API is a free enewsletter, dedicated to bringing you information to support you in your parenting journey.
---
API Links you to...

We hope by now you've all become familiar with the new, streamlined Links! You'll find all of this month's articles on our new APedia site. 
Here we give you the articles that we think you'll enjoy, but there's a ton of information on APedia ... simply too much to share here! APedia makes it so easy to keep up with the latest news API has found to help you parent successfully.

---
There is a Biological Reason Why Breastfeeding Leads to Sleepy Moms and Babies
Read this popular "APtly Said" post by API's Rita Brhel on the problem with proposed recommendations for infant sleep.

Hollie McNish, Poet Shamed by Breastfeeding in Public, Has the Last Word
A lot of thoughtful, impassioned arguments have been made by moms who have had to defend their rights to breastfeed in public, but few are as powerful as this.
Hollie McNish, a published U.K. poet and spoken-word artist, posted this video entitled "Embarrassed" on YouTube on July 4 that slowly but surely became a viral sensation.
McNish's edgy, rap-like stanzas describe what it feels like to be publicly shamed into hiding out in toilet stalls to breastfeed her daughter.
Breastfeeding Benefits Babies' Brains
A new study boosts the evidence that breastfeeding is good for babies' brains. Researchers found that by age 2, babies who had been breastfed exclusively for at least three months had enhanced development in key parts of the brain compared to children who were fed formula exclusively or who were fed a combination of formula and breastmilk.
Attachment Parenting Works for Teens, Too
Attachment Parenting is often thought of as an approach to parenting young children. Nurse practitioner, therapist, and coauthor of Mothering & Daughtering, Sil Reynolds, explains why it's vital to continue Attachment Parenting through the teen years.
"Kangaroo Care" Offers Developmental Benefits for Premature Newborns
Kangaroo Care delivers benefits beyond bonding and breastfeeding for a hospital's tiniest newborns. But while KC's benefits are known, its use is not widely promoted by hospitals.
Check out the rest of the news here ...

Our July/August online book discussion will be based upon Renée Peterson Trudeau's book Nurturing the Soul of Your Family: 10 Ways to Reconnect and Find Peace in Everyday Life.
Join the discussion on
GoodReads
.

The book touches upon API's Eighth Parenting Principle: Personal and Family Balance. We'll be discussing:
The Transformative Power of Self-Care

People First, Things Second: The Digital Divide

Spending Time Together (Like You Mean It!)

Do Less, Experience More

Breaking Free: Making Hard Choices


Building Your Support Network
Start preparing. Our September/October book will be Getting the Love You Want by Harville Hendrix. A great book for couples!

---
Exciting News - Attached at the Heart Coming Soon!
The new edition of Attached at the Heart is available for pre-orders now. Read about it, see the new cover, read Lysa and Barbara's latest post, The Real World of Attachment Parenting--and place your order, too.

---
See What's New in Our Store!
The Power of Parenting: The New Revolutionary Way of Raising Confident, Happy, and Successful Children
API's online store has listed a new book. The Power of Parenting: The New Revolutionary Way of Raising Confident, Happy, and Successful Children, by Steven Lorena, is now available. Visit our store to find this and an assortment of books, DVDs, journals, and audio recordings to support you on your peaceful parenting journey.
Listen now, on API Live!
Have you been encouraged by our past teleseminars and want to hear more? Now is your chance to gain encouragement and knowledge from speakers that are passionate about sharing their insights with you.

If you enjoyed listening to our recent teleseminar with Dr. Laura Markham, you will love these recordings as well:
If I'm an Attached Parent, Why Do I Get Disconnected?--Laura Markham

Joy of Partnership: Parenting that Works for Everyone--Scott Noelle

Peaceful Parenting--Robin Grille
Each downloadable recording is available for $9 with your API membership. Not a member? Join now!

---

See What's New!
This month, we bring you news on lots of exciting topics:
Click here to see the latest information on
- postpartum depression;
- C-sections;
- Victorian breastfeeding photos;
- Kangaroo Care;
- the "evil" Mr. Rogers;
- teens and AP;
- bullying by siblings;
... oh, and a breastfeeding video that's gone viral;
... and MORE!
---
API Live July Features
Laura Markham

Scott Noelle

Robin Grille

---
World Breastfeeding Week 2013
"Breastfeeding Support:
Close to Mothers"
This year's World Breastfeeding Week theme highlights Breastfeeding Peer Counselling. Even when mothers are able to get off to a good start, all too often in the weeks or months after delivery there is a sharp decline in breastfeeding rates and practices, particularly exclusive breastfeeding.
August 1-7, 2013

---
API Volunteers Make
All the Difference
See the messages from the AP community in acknowledgment and appreciation for all our volunteers do for families.

Thank you to all the API volunteers, from 1994 to today!
---
Picture Your Creativity
Show us your creative families! Send us photos of you and your family in your creative moments and we'll feature them during AP Month!  Our theme this year is "Parenting Creatively: The Art of Parenting!" so pull out all the stops! Up to 5 photos will be selected as features in upcoming API publications.
Get all the details here!
---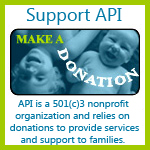 ---
Support the mission of API and connect with your target audience.
Contact us
to help you create an advertising package to fit your message and budget.
---
API is proactively engaged with organizations with diverse missions and activities in order to leverage and expand our work in supporting all parents, children and families to promote secure attachments and strong, positive relationships.
---
Want to Change a Life?
You can now apply online
and learn more about
becoming an API Leader!
---
Did You Have an Aha! Moment Reading One of These Links?
If so, we couldn't be more pleased to serve you. Help us serve others too. Please consider donating $20, $10, or even $5. API is a non-profit organization and it depends on your tax-deductible donations.
---
Photos by Paco Ros from here and by Ralph Daily (ralph and jenny) from here.
---
---