Sweeter Than Berries
Last spring, I wrote of how I was planning to plant berries and herbs in my community garden plot. I figured the strawberries would bloom throughout the summer and I'd be able to enjoy them while the blueberry bush and raspberry canes established themselves. I'd read where it could take a couple of years for these kinds of berries to produce anything at all. So I planted them, noticing that the blueberry bush was shipped to me in flower, and that the strawberries didn't look too well.
We had a couple of heat waves here in New York City, and the strawberries got stressed, the flowers died, no berries at all, just pretty green leaves. Oddly, one lone blueberry appeared and I waited anxiously for the tiny green berry to do something. And it did! It turned blue and when I ate it, voila, it tasted like a blueberry. And finally, the biggest surprise of all, my raspberry canes are in bloom! Go figure, but we might have ourselves a fall crop of berries.
Gardening, like parenting, teaches you to expect the unexpected. My son was born healthy and thrived for his first eighteen months of life. And then, mysteriously, at a year and a half all that changed-he lost eye contact and all language, and he began self stimulatory behaviors. For two years there was no improvement, but my friends in the attachment parenting community told me not to lose hope, to keep doing my best. We eventually found the right doctor and my son was put on a gluten-free, casein-free diet and he got back on a normal developmental track.
In a few weeks he will be going to his first sleep away camp through the generosity of the Crohn's and Colitis Foundation. If you had asked me back then, in the bad days, if I thought my son would ever be able to go to sleep away camp, I would have sadly shook my head "no."
A big thank you to all the attachment parents who help buoy up other parents in their time of need.

If there is no API support group in your area, please think about becoming a leader and starting one. Our children need you!
Making API Links Happen
by Kelley Francis
I learned about Attachment Parenting because my eldest was a fussy baby. While doing a library and internet search for something to help sooth my child I found The Fussy Baby Book by Dr. Sears. It changed my life. I had already been doing things against all the mainstream rules working to help my first born feel better--she calmed in a carrier and shared sleep helped us get more rest. The Fussy Baby Book talked about AP and how you know when your baby is high needs. I nodded my head "yes" so much I looked like a bobble head doll while reading it. It helped me to know what I wanted to do instinctively was okay and I found a tribe once I knew what this parenting was called.

API helped me so much that I really wanted to volunteer. I felt terrible when I realized I couldn't commit to leading a monthly meeting and yet every day I met (and continue to meet) people who want to know about baby wearing or some other aspect of attachment parenting. Becoming a resource leader and finding a volunteer position (copy editing this e-newsletter) that used my previous skills was a great option for me. In my own small way I get to support this wonderful organization that helps families and babes every day all over the world.

With our new arrival I am still able to contribute. One hand holding babe and the other at the keyboard or holding the phone.
Kelley, all the hard work and attention that you put into Links is greatly appreciated! You make Links the fab publication it is today. And congrats on the new baby!

Volunteers are always needed at API and some positions require only a few hours a month. Please check out our volunteers in this issue.
The Lessons of Okinawa

by Lysa Parker, Attachment Parenting International
In 1946 an educational film called "The Okinawan", became the subject of nationwide interest and was shown to many pediatricians and to many other professional groups, and at many colleges and universities. This film was made during World War II, by Commander James C. Maloney and Commander J.J. Cammisa, two United States medical officers stationed in Okinawa during the struggle with Japan.

This movie was filmed in Okinawa Shima during World War II when Dr. Maloney and his commanding officer, J.J. Cammisa, became intrigued with the amazing psychological stamina of the Okinawan people. "There are few psychotic persons among the civilians in Okinawan Shima" noted Dr. Maloney.

"Prior to the war, there was not a single asylum or psychiatrist for the entire island, which had a population of nearly 400,000 persons. In the western world, over fifty percent of all hospital beds were allocated to those suffering from mental disease. The relatively few psychotic persons encountered in Okinawa Shima pose a problem for speculation. The fact that these people remained emotionally stable after having suffered heavy bombings, losing their homes and their crops, and having entire families annihilated, was astonishing."

Dr. Maloney's explanation of the phenomenon became the center of his work on the film.

". . . and I believe that I can supply one of the explanations. First of all, I do not believe that these people are constitutionally sounder than Americans...Rather, in my opinion, this psychological stamina stems from the excellent start the Okinawan child gets in life. He is well-mothered."


Please go
here
to read the entire article.
And
In The Next Issue of The Journal...
Going Green...

Exciting things are happening with
The Journal of API
. Not only are we working on our first annual Growing Child issue, which addresses parents of children ages 5-18, but we're making plans to go green!
API is joining the growing number of organizations, businesses, and individuals -- including many AP families -- in efforts that treat our planet with more respect. At home, you can take part by recycling, running less water, and walking instead of driving, where you can. Here, at API, we're taking advantage of the benefits of the Internet in being able to provide you with AP support and education with less paper.
Starting with the upcoming Growing Child issue, we're reducing our page count in
The Journal of API
, and as a new benefit to members, we're launching a members-only Web site to provide greater space for more AP articles! This Web site will be updated weekly, will provide a variety of articles for parents of both young and older children, and will include features, how-tos, and personal stories as well as a way for readers to comment on articles, take part in polls, and more. Look for the access code for the Journal Web site in the pages of the next issue of
The Journal of API
.
Join API today to subscribe
The Journal of API
, and to be able to access the new Journal Web site in October.
Want to take part in API's Going Green efforts? When you join API, or renew your membership, you can choose to receive the quarterly Journal of API via e-mail instead of on paper.
Interested in helping another way? Consider writing an article for
The Journal of API
or the Journal Web site. Articles are accepted on an on-going basis for the Web site and can be on any topic related to AP.
In addition, we're currently accepting articles for
The Journal of API
. Here are the submission deadlines:
Winter 2008-2009 - Healing Childhood Wounds (using AP to change the patterns of our past, controlling anger and anxiety) - October 10th, 2008
Spring 2009 - annual New Baby issue (procedures, interventions, and decisions during pregnancy, childbirth, and the early newborn days) - January 11th, 2009
Summer 2009 - Feeding with Love & Respect (breastfeeding, bottlefeeding, introducing solids, helping older children learn to choose nutritious foods) - April 11th, 2009
Fall 2009 - annual Growing Child issue (positive discipline for toddlers, preschoolers, young children, tweens, and teens) - July 11th, 2009

If you're interested in submitting an article, contact Editor
Rita Brhel.

If you're interested in advertising in The Journal of API, contact Advertising Manager
Corrina Milito
.
API Reads

Come join in an online discussion with leading author and Attachment Parenting advocate, Jan Hunt. She will be taking time to sit down with our API members and premium forum subscribers to have an online discussion with you on the book, The Natural Child: Parenting from the Heart.

To help prepare you for this discussion, please join the API Reads program in reading and discussing
together The Natural Child: Parenting from the Heart for the months of August and September.

If you are already a paying API member, you will have access to this forum automatically. Please send your first name, last name, address, and forum ID to Memberships if you are interested in participating in the discussion with Jan Hunt. Not a member? How about joining today? Not interested in joining but you would like to participate in the forum? Please visit the following link to subscribe.

The discussion with Jan Hunt will be September 15-19. So that Jan and you can truly participate in the online discussion with her, please make sure you have read or are reading the book. Need a copy of the book? Please check API's store or purchase from Amazon.

Upcoming books to be read:
October/November we'll be reading Everyday Blessings: The Inner Work of Mindful Parenting by Myla and Jon Kabat-Zinn
December/January we'll be reading Discipline Without Distress by Judy Arnall
February/March we'll be reading Attached at the Heart by Barbara Nicholson and Lysa Parker
Our Growing Team

Welcome New API Leaders and Support Groups
API would like to welcome our newest Leaders to our team, and to thank them for their dedication to Attachment Parenting and API. Their efforts truly make a difference in the community they serve.




New Groups

New and Returning API Support Group Leaders
Abbie Spencer, API of the UK
Melanie Currier, API of Merrimack Valley, NH
Kelly Coyle DiNorcia - Skylands API, NJ
Kandace Wright - Merrimack Valley, NH
For information on becoming an API Leader or starting a new API Support Group, please visit our website.


New Reading Requirements for Leader Applicants

We have revised API's reading requirements. We now refer to specific books in seven categories, and we have introduced more individual flexibility at the discretion of Lisa Feiertag, Director of Leader Applicants. The new requirements are detailed on the Starting a Group page.


October is Attachment Parenting Month!!!

Join with API and AP supporters, including the Sears family in declaring and celebrating October as Attachment Parenting Month!

Our theme for 2008 AP Month will be "Giving Our Children Presence", a nice balance to upcoming holiday activity that often involves giving our children presents.


Our vision is to collectively draw the focus to Attachment Parenting during October and become one strong voice for AP through activities, events, and information. Three goals of this annual event include:

Promoting the awareness of Attachment Parenting
Educating people about API and its services
Raising funds to support API's mission.

Check the API website in the next week for the unveiling of the AP Month logo and AP Month Central - the gateway of information about AP Month. Visit AP Month Central often to stay updated on our exciting plans as they unfold, locate celebrations in your area to join and attend and access tools to help you host your own celebrations.
API will feature a membership drive, internal fundraisers, and other surprises so stay tuned and better yet, join in the celebration.
We Might Be Magical but We Aren't That Small!
Our organization functions based on a wonderful, enthusiastic staff of volunteers. If you are interested in helping us to promote the good work of attachment based parenting, see the positions listed below, visit the volunteer section volunteer section on our site, or contact Brandy Lance Volunteer Liaison, to receive complete job descriptions.
Bookkeeper
Do you enjoy keeping and recording accurate financial records? If so, you would surely enjoy volunteering with Attachment Parenting International as our Bookkeeper! Hours are minimal and flexible.
Retail Affiliate Coordinator
As the Retail Affiliate Coordinator, you will work together with API's Business Management Director to launch API's budding Retail Affiliate Program. This program will ultimately give AP friendly businesses additional exposure while assisting API with an additional source of revenue. If you are interested and excited about creating a new, comprehensive and exciting revenue-generating program, this may be the position for you!
Sales Coordinator

Have you worked with an online shopping cart or do you wish to gain experience doing so? Our API Sales Coordinator will manage and maintain our online shopping cart. Join our team to help us develop our store and keep it fresh and exciting!
Note: The Sales Coordinator is not expected to ship store items.
Web Content Manager

API is looking for someone with a background in web-based communication to drive the content and style of the new API Web site. Excellent written communication and organizational skills a must. Specific experience with designing information for the web, design, navigation, news feeds, promoting web content is also a plus.
For other team positions go

here

.
Membership
Our world needs a fundamental shift in the way it treats its children. Attachment Parenting International represents a global effort to protect the parent-child connection and create future generations of compassionate, healthy children.
Please join us in this monumental and critical mission by becoming an API member. Your membership benefits your family, your professional career, your local community, and the community at large. We look forward to enjoying the journey with you!
Donations
Do you or your friends annually give to a charity? If so, please make API your charity for this year!
Do you like to give meaningful and heartfelt gifts to family and friends? If so, then please consider giving gift memberships to API!
Does your employer or your spouse's employer match contributions? If so, how about signing up with API as your matching gift fund!
Please consider how you might make a difference... our children and yours will reap the benefits. Please send in your donations to: Stephanie Petters.
Attachment Parenting International
PO Box 4615
Alpharetta, GA 30023
Mailing your donation ensures 100% goes to API - PayPal takes their fee from all online donations. To donate online please go here.
Founders' Book Soon To Be Released!
API is proud to announce that the co-founders' long-awaited book will be available in the fall! The book by Barbara Nicholson & Lysa Parker is titled Attached at the Heart: 8 Proven Principles for Raising Connected and Compassionate Children. This text book for AP families offers research, personal anecdotes, tips and techniques for incorporating attachment-promoting activities into family life.

Barbara reflects, "The important message of our book is the title: Attached at the Heart. We want people to trust their heart when all else fails. When it's the middle of the night and the baby's crying, and the pediatrician and the mother-in-law have both said to let the baby cry, we want parents to trust their instincts. Instead of worrying "Is my baby going to be messed up if I hold her for 15 more minutes?" we want them to trust their heart. Mothers wouldn't be in a cold sweat or crying when their children were hurting if they didn't really instinctually know to always default to the most loving connected thing to do."
Look for Attached at the Heart in API's online shop and request it from local retailers this fall! API Co-Founders Barbara & Lysa discuss their New Book and a New Vision for API here.

Our Mission

is to educate and support all parents in raising secure, joyful, and empathic children in order to strengthen families and create a more compassionate world.
Read our
Eight Principles of Attachment Parenting
Wise Words
If there is anything that we wish to change in the child, we should first examine it and see whether it is not something that could better be changed in ourselves.
~C.G. Jung, Integration of the Personality, 1939

In The News

You can help out in a survey on New Mother's Sleep and Fatigue!
Participate in a survey put together by API Resource Advisory Board Member Kathleen Kendall-Tackett and Thomas Hale to help document Mothers' Sleep and Fatigue. This study is open to all mothers with babies 0-12 months old.
What New Forums Would You Like To See?

Now that the API Forums have been up and running for a few months, we are looking to expand our forum offerings. To get an idea of what might be popular, we're asking for suggestions from our forum members.
What forum topics would you be interested in seeing hosted here on the API forums? Interested in gardening, how about a gardening forum? Perhaps recipes are more your forte. We're looking to gauge topical interest so please, share what you'd like to see.
More Zzzzs?
Q: What is API's position on night weaning?
A: API does not have an official position on night weaning. Night nursing, like all nursing, is a special relationship between mother and child, and both must be happy and willing to continue this aspect of their relationship. With that said, night weaning should ideally occur when a child is developmentally ready. (FAQ is continued
here
.)
The above is just one of many FAQs which can be found at our
website
. But for greater in depth discussion on this matter and others we suggest posting to our
forums
!
Infant Massage USA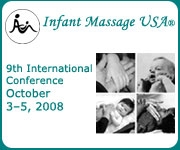 October 3-7, 2008
API's Barbara Nicholson and Stephen Bavolek will be at the
Infant Massage USA
conference in Denver, Colorado at the Omni Interlocken Resort.
Register online by August 29th for best prices.
More On The Baby Borrowers
In the previous issue,
API Links
referred to an announcement about an
API statement
against the airing of the so-called reality program, "The Baby Borrowers."
The stance of the announcement remains unchanged;
however it should have stated that the program's children were supervised by the child's parents on closed-circuit TV from a house down the street and with a professional nanny shadowing the "parent" teens at all times.