Dear Supporter,
Last night as I was about to stumble off to bed, a distressed friend emailed me. Seems she was at a family wedding, and they were giving her grief about how she'd coslept with her son when he was younger. They were highly critical, making all kinds of harsh judgments without knowing the research behind the benefits of Attachment Parenting.

My friend's son is 12 years old, now sleeping on his own and obviously well adjusted and happy.

I remember well the feeling of having my parenting choices attacked by uneducated opinionators and the feeling of being put on the defense. Not fun.

She asked me about how to handle the comments. In my bleary-eyed state, I came up with a few retorts:

"I've discussed it with my pediatrician, and he/she supports me in our decision." (This was my default reply, as people usually don't have a response when they hear that a doctor said something's okay.)
"This is what's working for our family now."
"Research has found that extended cosleeping/breastfeeding/nurturing/insert-AP-term-here is not harmful developmentally, and is actually helpful."
"I appreciate your concern, but children mature at different rates and our pediatrician is supportive of our decisions."

"My pediatrician isn't concerned. You don't need to be either."
"I know it may seem unusual, but many children sleep with their parents. Children in other cultures sleep with their families until adulthood."
"I understand that you simply have my child's best interests at heart, but please know that I don't wish to discuss it anymore."
"Families sure do have a variety of ways of raising their kids."
"If it's not harmful - and the research shows that it isn't - then what is your concern?"

"More and more research is being published every day that supports cosleeping/extended breastfeeding/babywearing/insert-AP-term-here and other Attachment Parenting methods."
"I hear your concern for my child and I'm glad you care about him/her. You'll be glad to know he/she is very well cared for."
If you're up for talking about it:

"Sounds like you might be curious why we made this decision. I would be glad to tell you what I've learned."

And, the trusty standby, if you're not up for a chat:

"Pass the bean dip."
Have you ever had your family or friends criticize your parenting choices? What are your go-to retorts?
Like good friends, API Support Groups are there to help you process those difficult moments as we sometimes pioneer what's natural in our families and communities. Responding to criticism in ways that honor ourselves, whether it is to nod, respond, or educate, is one of the many go-to topics you can count on at a local API meeting.
Camille North,
API Links Editor
Please let us know what you like and what could be better about Links.

API is a free enewsletter, dedicated to bringing you information to support you in your parenting journey.
---
Mother Brings Baby Back to Life with Two Hours of Loving Cuddles after Doctors Pronounce Him Dead
[VIDEO] It was a final chance to say goodbye for grieving mother Kate Ogg after doctors gave up hope of saving her premature baby. She tearfully told her lifeless son - born at 27 weeks weighing 2 lb - how much she loved him and cuddled him tightly, not wanting to let him go. Although little Jamie's twin sister Emily had been delivered successfully, doctors had given Mrs Ogg the news all mothers dread - that after 20 minutes of battling to get her son to breathe, they had declared him dead.
Modern Parenting May Hinder Brain Development
Social practices and cultural beliefs of modern life are preventing healthy brain and emotional development in children, according to an interdisciplinary body of research presented recently at a symposium at the University of Notre Dame.
"Life outcomes for American youth are worsening, especially in comparison to 50 years ago," says Darcia Narvaez, Notre Dame professor of psychology who specializes in moral development in children and how early life experiences can influence brain development.
The Sweet Spot
It hit me like a ton of bricks last week. I was at the community pool, looking around to see what my kids were up to. Then I really looked at them. The big one was playing with her friends, her long arms and legs splashing. The little one was throwing herself off the diving board like a boss. The boy was in the shade, cracking jokes with his buddies. As I sat there drinking lukewarm coffee, I realized, Oh my God. Here I am....

Breastfed Children Are Less Likely to Develop ADHD Later in Life
We know that breastfeeding has a positive impact on child development and health - including protection against illness. Now researchers from Tel Aviv University have shown that breastfeeding may also help protect against Attention Deficit/Hyperactivity Disorder (ADHD), the most commonly diagnosed neurobehavioral disorder in children and adolescents.
Check out the rest of the news here ...


We started reading Nurturing the Soul of Your Family for API's online book club, API Reads, in July. We're learning about shifting our perspective, about where disequilibrium comes from, about challenging the beliefs of our family, how self-care supports us in being more present with our partner and children, how self-care translates into owning our own personal power, that self-care is more than massages and pedicures, and that our family is our opportunity to heal and grow as a person.
What more can we expect from this book? With the remaining chapters we can expect to cover:
- Making time for spiritual renewal: return to the river within
- Loving the ones you're with: spend time together (like you mean it!)
- Defining, celebrating, and honoring your family culture: what do you stand for?
- Slowing down: do less to experience more
- Exploring a new way of being: make hard choices, break free, and do it differently
- Building your tribe: ask for and embrace help as you create your support network.
Don't forget! In September we'll be reading a book for couples:
Getting the Love You Want
by Harville Hendrix

. Happy reading! Remember, our discussions
happen at
GoodReads
.
---
La Leche League's Newest Edition of New Beginnings
Read it in digital form: "Pumping and Returning to Work: Tips for an Easier Transition."
---
How Do You Make a Difference to Children?
"I make a difference every day, and so do you.

"July is recognized as "Make a Difference Month to Children," and many organizations and businesses took this opportunity to raise awareness of their causes or to ask for donations to a favorite child-centered charity. And that is wonderful.

"But every individual is making a difference to children in the world every single day. We may not be teachers, childcare providers, parent educators or other professionals who work with children. You may not even be a parent, but yet, we all are still making a huge difference to our communities and society - through our relationships with the children we interact with, whether in our homes, in our professions, or in passing."
---
Visit our store to find this and an assortment of books, dvds, journals, and audio recordings to support you on your peaceful parenting journey.
API Links you to...

WOW. We have SO many interesting articles for you this month!
Read them all on our new APedia site. This site makes it super easy to check out the latest news API has found to help you parent successfully.
This month, we bring you news on lots of exciting topics. Click here to see the latest information on:
---
Exciting News!
Presenting a
new edition of
Attached at the Heart
The new edition of Attached at the Heart is available now from your favorite retailer. Read about it, what's new in this edition, learn where they will be signing books, read Lysa and Barbara's latest post -- and place your order, too.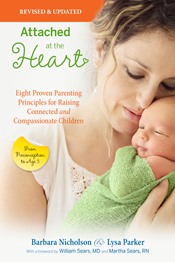 ---
API Live!
presents
"Attachment Parenting and Nonviolent Communication"
Featuring parenting expert and certified NVC trainer Ingrid Bauer
Tuesday, August 27, 2013,
at 9:00 pm EST and 6:00 pm PST
with hosts Lu Hanessian and Barbara Nicholson

Registration details available soon on the API Homepage.

Send your questions to apilive@attachmentparenting.org.

---
API Volunteers Make
All the Difference
See the messages from the AP community in acknowledgment and appreciation for all that our volunteers do for families.

Thank you to all the API volunteers, from 1994 to today!
---
Picture Your Creativity
Show us your creative families! Send us photos of you and your family in your creative moments and we'll feature them during AP Month! Our theme this year is "Parenting Creatively: The Art of Parenting!" so pull out all the stops! Up to 5 photos will be selected as features in upcoming API publications.
Get all the details here!
---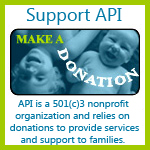 ---
Support the mission of API and connect with your target audience.
Contact us
to help you create an advertising package to fit your message and budget.
---
API is proactively engaged with organizations with diverse missions and activities in order to leverage and expand our work in supporting all parents, children and families to promote secure attachments and strong, positive relationships.
---
Want to Change a Life?
You can now apply online
and learn more about
becoming an API Leader!
---
Did You Have an Aha! Moment Reading One of These Links?
If so, we couldn't be more pleased to serve you. Help us serve others too. Please consider donating $20, $10, or even $5. API is a non-profit organization and it depends on your tax-deductible donations.
---
Photos by Thejas Panarkandy (thejasp) from here and by epSos.de from here.
---
---