Friendly Fire
Right now approximately thirty breastfeeding women are sleep training their four month old babies in Brooklyn. I know this because a member of the group called me for support. Even though the mothers in her moms' group are doing this sleep training on their pediatricians' advice, it just didn't sit well with her.

It went against her instincts, so she gave me a call.
Going against the people in your immediate circle of influence is tough. It's even rougher when doctors give advice which sabotages breastfeeding, parenting confidence and parent-child relationships in a single recommendation. And all for lack of better information.
This isn't about breastfeeding vs. bottle, or even when to wean--it's about building confidence in ourselves and in our children, even against popular advice. Our job is to trust the meaningfulness of our children's signals and accept that they are motivated to gain our assistance in satisfying a valid need. And then we are tasked to strive to understand and meet the needs.
What we know today is a baby cries to signal for help in meeting very real needs such as physiological regulation and sustenance provided by parents and caregivers through comfort and closeness. Tiny stomachs are designed to need frequent feedings and closeness to mother is required. Nurturing touch provided by being close to mother during frequent feedings calms babies and helps them to grow and thrive. Closeness with fathers and other caregivers provide mothers with much needed breaks and serve to keep baby happy and thriving.
I am disquieted knowing tonight another infant will sleep alone, frightened and hungry after exhausting itself crying for help to meet simple needs provided best by loving parents.
October is AP month. Please do something, anything, to celebrate this important parenting movement. We have a
website
set up filled with suggestions on things you can do to be proactive.
We can make a difference.
A Branch Grows

In Brooklyn

By Caitlin FitzGordon

I first heard about Attachment Parenting through some of my friends who were practicing it way before I even thought about having children. At the time, I remember they seemed a bit weird. But when it came my time to start a family, I read Sears' The Baby Book and Liedloff's The Continuum Concept and it all made sense. It resonated so strongly with me that I thought, "Why would anyone want to do anything else?"

However, Attachment Parenting with two children has been challenging. My eldest was two and a half when I gave birth to my second child. She'll be three soon, and it's still a struggle: my children right now are demanding all my time between breastfeeding my infant and my older child needing her fair share of attention, and sometimes I feel drained. I hope that the time and extra effort I put in to parenting will pay off in a family which is connected.

Even though it's been rough, I believe in connecting with my children rather than being controlling or dominating, which is what I see in many parenting situations. I want to relate to my children (and the rest of the world) from a place of love, not fear. Daring to parent differently can be isolating, and so I know the importance first hand of having an API support group available to me.

I'm thankful for the support that I've received from other attachment parents through this difficult time, and now that I'm a bit further along in this journey, I plan to become an API Leader to give back what I've received from the group.


We applaud Caitlin's efforts and determination to parent from the heart, and we are delighted that she and other AP moms will be creating a new support group in Brooklyn sometime soon.
A Warm Welcome to Gena Kirby--Our Newest Member of the Board of Directors
Gena Kirby is a wife, mother of two children, doula, and co-owner of Mommy Matters Maternity Boutique and Family Resource Center in Fresno, California. She is the creator and host of the radio show Progressive Parenting. She is turning the show into a live-streaming-video format, with the hopes of creating a television show. Her mission at Mommy Matters is to educate parents about gentle birth and to share the joys of parenthood with families using the principles of Attachment Parenting.
AP Month Central is Here!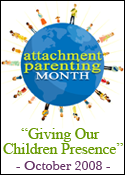 Next month is Attachment Parenting Month! Visit
AP Month Central
the AP Month information source, to find and participate in AP Month celebrations near you or use our toolkit to plan your own AP Month celebration!
Check AP Month Central frequently to learn about our changing activities and offers that will include special guest bloggers, teleclasses, giveaways, offers, a calendar of "Presence", membership specials and more.
Join with API and AP supporters, including the Sears family in declaring and celebrating October as Attachment Parenting Month!
Our theme for 2008 AP Month will be "Giving Our Children Presence", a nice balance to upcoming holiday activity that often involves giving our children presents.
Our vision is to collectively draw the focus to Attachment Parenting during October and become one strong voice for AP through activities, events, and information by:
Promoting the awareness of Attachment Parenting

Educating people about API and its services

Raising funds to support API's mission.
API Teleclasses
Ask API Live-This Monday!
Put on your most comfortable jammies, grab a cup of tea, and join former NBC anchor Lu Hanessian as she quizzes API Co-Founders Barbara Nicholson and Lysa Parker on the parenting questions you submit!
Ask your question at Ask API Live and you may hear Barbara and Lysa respond to it with their many years of experience and knowledge, as well as talk about Giving Our Children Presence, in honor of Attachment Parenting Month.
This intimate chat will take place this Monday, September 22, at 9pm Eastern, 6pm Pacific. Submit your questions now, and find out about
future teleclasses
.
This is a free event!
And
In The Next Issue of The Journal...

Schooling and the AP Child...

What's best, when it comes to schooling, for your AP child? Public, private, charter, home, unschooling? Each has their pros and cons, and each has their supporters. Read about the pros and cons about each of the five major education options available to your children in the upcoming Growing Child issue of The Journal of API.

Also, be sure not to miss out on directions to access the new members-only online Journal Web site. Renamed as The Attached Family, the online version will feature a myriad of topics relevant to AP parents everywhere, from pregnancy and birth to sleep problems and discipline to AP with dual-income families and single parents. With new articles appearing weekly, The Attached Family is a new member benefit that will provide you with current, useful AP information -- as well as fun, interactive features like polls and a photo contest.

Join API today to subscribe to The Journal of API, access the new Attached Family Web site, and be able to take advantage of all that API offers its members.

Also, consider writing an article for The Journal of API or The Attached Family Web site. Articles are accepted on an on-going basis for the Web site and can be on any topic related to AP.

In addition, we're currently accepting articles for The Journal of API. Here are the submission deadlines:
Winter 2008-2009 - Healing Childhood Wounds (using AP to change the patterns of our past, controlling anger and anxiety) - October 10th, 2008
Spring 2009 - annual New Baby issue (procedures, interventions, and decisions during pregnancy, childbirth, and the early newborn days) - January 11th, 2009
Summer 2009 - Feeding with Love & Respect (breastfeeding, bottlefeeding, introducing solids, helping older children learn to choose nutritious foods) - April 11th, 2009
Fall 2009 - annual Growing Child issue (positive discipline for toddlers, preschoolers, young children, tweens, and teens) - July 11th, 2009


If you're interested in submitting an article, contact Editor
Rita Brhel.

The Journal of API is brought to API members courtesy of the generous donations from our supporters. In return, donors receive ad space within The Journal of API. If you're interested in advertising in The Journal of API, contact Advertising Manager Corrina Milito.

API Reads

Come join in an online discussion with leading author and Attachment Parenting advocate, Jan Hunt. She will be taking time to sit down with our API members and premium forum subscribers to have an online discussion with you on the book, The Natural Child: Parenting from the Heart.

To help prepare you for this discussion, please join the API Reads program in reading and discussing
together The Natural Child: Parenting from the Heart for the months of August and September.

If you are already a paying API member, you will have access to this forum automatically. Please send your first name, last name, address, and forum ID to Memberships if you are interested in participating in the discussion with Jan Hunt. Not a member? How about joining today? Not interested in joining but you would like to participate in the forum? Please visit the following link to subscribe.

The discussion with Jan Hunt will be September 22-26. So that Jan and you can truly participate in the online discussion with her, please make sure you have read or are reading the book. Need a copy of the book? Please purchase from Amazon.

Upcoming books to be read:
October/November we'll be reading Everyday Blessings: The Inner Work of Mindful Parenting by Myla and Jon Kabat-Zinn
December/January we'll be reading Discipline Without Distress by Judy Arnall
February/March we'll be reading Attached at the Heart by Barbara Nicholson and Lysa Parker
Our Growing Team

Welcome New API Leaders and Support Groups
API would like to welcome our newest Leaders to our team, and to thank them for their dedication to Attachment Parenting and API. Their efforts truly make a difference in the community they serve.

New Groups

New and Returning API Support Group Leaders
Angela Adams, API of Orange County
Tamara Verschoyle, API of San Antonio/New Braunfels, TX
For information on becoming an API Leader or starting a new API Support Group, please visit our website.


New Reading Requirements for Leader Applicants

We have revised API's reading requirements. We now refer to specific books in seven categories, and we have introduced more individual flexibility at the discretion of Lisa Feiertag, Director of Leader Applicants. The new requirements are detailed on the Starting a Group page.


Let's Make Sweet Music Together!

Have We Got a Deal for You...

In honor of Attachment Parenting "Giving the Gift of Presence" month, Attachment Parenting International (API) would love to offer the following specials to you. Please tell your family and friends about these specials as well!

We are offering a wonderful opportunity for you to get a jump start on your holidays by offering you the special "Buy One Membership and Receive a Gift Membership FREE". You can buy a new membership, gift membership, or renew your membership to participate in this valuable offer. Please enter the code "AP Month" in your PayPal comments field.


Maybe you don't know anyone you'd think would appreciate a gift membership? You can still participate in our special. For the FIRST 25 NEW memberships you will receive a FREE copy of Dr. William Sears and Martha Sears book "The Successful Child: What Parents Can Do to Help Kids Turn Out Well". This is another valuable book from the Sears' Library.

Please enter the code "AP Month Successful Child" in the PayPal comments field. If you have any questions about these specials please email Stephanie Petters.

You are our Sunshine
Our organization functions based on a wonderful, enthusiastic staff of volunteers. If you are interested in helping us to promote the good work of attachment based parenting, see the positions listed below, visit the volunteer section volunteer section on our site, or contact Brandy Lance Volunteer Liaison, to receive complete job descriptions.
API Forum - Junior Moderators
Would you like to participate in a fun, friendly online venue where parents, leaders, and interested members of the public have the opportunity to discuss Attachment Parenting (AP) and topics that relate to the Eight Principles of Attachment Parenting? Then perhaps you would be interested in volunteering as one of API's Jr. Moderators on our fabulous online forum! Jr. Moderators work together with our Online Forum Administrator and Sr. Moderators to stimulate conversation, answer questions and offer support to parents around the world. This is a great way to share your love and support of attachment parenting so come and join us!
API Speaks - AP Friendly Bloggers

API's new blog, API Speaks has taken off and we are seeking bloggers to post on topics relevant to the Eight Principles of Attachment Parenting. If you are interested in posting monthly or bi-weekly, please send us an email with the link to your blog. We'd love to hear from you!
Parent Support FAQ Team Coordinator
API strives to provide a wealth of AP information and support to parents. If you are committed to the same and have a couple of hours a week to repurpose former parent support email responses into online FAQs, then this may be the perfect opportunity for you!
For other team positions go
here
.
Membership
Our world needs a fundamental shift in the way it treats its children. Attachment Parenting International represents a global effort to protect the parent-child connection and create future generations of compassionate, healthy children.
Please join us in this monumental and critical mission by becoming an API member. Your membership benefits your family, your professional career, your local community, and the community at large. We look forward to enjoying the journey with you!
Donations
Do you or your friends annually give to a charity? If so, please make API your charity for this year!
Do you like to give meaningful and heartfelt gifts to family and friends? If so, then please consider giving gift memberships to API!
Does your employer or your spouse's employer match contributions? If so, how about signing up with API as your matching gift fund!
Please consider how you might make a difference... our children and yours will reap the benefits. Please send in your donations to: Stephanie Petters.
Attachment Parenting International
PO Box 4615
Alpharetta, GA 30023
Mailing your donation ensures 100% goes to API. PayPal takes their fee from all online donations; however, if you still wish to donate online please click here.
Founders' Book Soon To Be Released!
API is proud to announce that the co-founders' long-awaited book will soon be available! The book by Barbara Nicholson & Lysa Parker is titled Attached at the Heart: 8 Proven Principles for Raising Connected and Compassionate Children. This text book for AP families offers research, personal anecdotes, tips and techniques for incorporating attachment-promoting activities into family life.

Barbara reflects, "The important message of our book is the title: Attached at the Heart. We want people to trust their heart when all else fails. When it's the middle of the night and the baby's crying, and the pediatrician and the mother-in-law have both said to let the baby cry, we want parents to trust their instincts. Instead of worrying "Is my baby going to be messed up if I hold her for 15 more minutes?" we want them to trust their heart. Mothers wouldn't be in a cold sweat or crying when their children were hurting if they didn't really instinctually know to always default to the most loving connected thing to do."
Our Mission

is to educate and support all parents in raising secure, joyful, and empathic children in order to strengthen families and create a more compassionate world.
Read our
Eight Principles of Attachment Parenting
Welcome Synergic Health!
Please welcome our latest API Professional Associate member, Synergic Health!
Synergic Health focuses on chiropractic work and applied kinesiology with our Attachment Parenting audience in mind. They are located in Richmond, VT and would love to have you stop by. To find out more information please visit our
Professional Online Listing
.
Wise Words

There is always a moment in childhood when the door opens and lets the future in.

API In the News
Art Yuen and Avril Dannenbaum (API Staff and Co-leaders of API-NYC,) spoke to Time Out Kids NY about changes here at API to get our message out to more parents. The article seems to question whether API has somehow "sold out," in its quest to reach a larger audience.
However, Art Yuen is quoted, "The point of API is supporting a secure attachment, how you get there is up to you and your family."
Infant Massage USA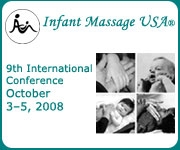 October 3-7, 2008
API's Barbara Nicholson and Stephen Bavolek will be at the
Infant Massage USA
conference in Denver, Colorado at the Omni Interlocken Resort.
Register online.