Attachment Parenting Month Is Here!

As the first full week of Attachment Parenting Month comes to a close, Attachment Parenting International (API) is so excited about the energy and momentum shown by our leaders, members, and others in the parenting community. It seems that our theme of "Giving Our Children Presence" is something that everyone can celebrate. So break out the confetti and balloons: Attachment Parenting Month is here!

Many events have already taken place in celebration of Attachment Parenting Month, but you can find even more events, tips, and activities on apmonth.attachmentparenting.org. Prizes and related giveaways include Feelez empathy building game for children, Mothering Magazine subscriptions and API gift memberships.
Check frequently for new offerings and goodies.

Monday night's edition of Ask API Live, "The Myth of Perfect Mothering" with special guest Martha Sears, was an intensely personal discussion of the challenges of motherhood and the MP3 of this amazing evening--as well as registration for October 27th's edition "Getting Real" with special guest Peggy O'Mara--is available for purchase on ask.attachmentparenting.org.

And there's still time to submit a post to API Speaks' Carnival of Presence! Not a blogger? Check out our contributors' touching posts about their own experiences with giving their children presence, and watch for guest posts from Carla Moquin of Babies at Work, Dr. Larry Cohen of Playful Parenting, Peggy O'Mara of Mothering, and more!

Because of the response to our Attachment Parenting Month membership specials, API is pleased to announce that we're getting close to 1,000 active members! Join today and you may be the 1000th family to show their support of Attachment Parenting and their commitment to creating a more compassionate world. As a thank you for the support our members provide, API has added several new membership benefits in the past few months including discounts on Ask API Live, complementary membership to our author-facilitated book club, API Reads, and free upgraded forum membership on API's parent support forums.


API, the Sears family, Mothering Magazine, Gena Kirby of Mommy Matters, Amby Baby, and other well-known and influential Attachment Parenting advocates are sponsoring and endorsing AP Month. The occasion is perfect for parents of every stripe to merge, participate and show support for healthy parenting.


Mayor Michael Bloomberg of New York City and Mayor John Hickenlooper of Denver have proclaimed October to be AP Month in support of our theme of "Giving Our Children Presence" and recognize that:
Parents have a profound positive impact on children, families and communities when they are lovingly present and supportive in the lives of children.
Parents need reliable information and support in making informed choices.
All available knowledge indicates that parents' spending adequate time with and sensitive attention to their children enhances the social-emotional growth, development and well-being of their children by both providing protective factors that prevent and minimizing the associated risk factors that contribute to later problem behaviors.
Attachment Parenting is vital to modern families and is one of the best and most economical health care plans we can provide for our children. The most delicious benefit of Attachment Parenting is that we're encouraged and guided to indulge our instincts to know and savor our children. The gifts of rich and profound relationships with our children are truly priceless.
During AP Month we aim to:
Collect all Attachment Parents to participate and share in a common theme.
Offer all parents and adults support and confidence in "Giving Our Children Presence."
Promote awareness of AP Educate about API, other AP Month sponsors, and the services they provide to parents
Provide a source of funds to support API's mission
Won't you join us?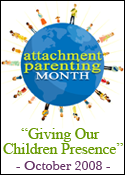 AP Month Central is Open!
AP Month Central
is the one-stop AP Month information source where you can check in frequently as AP Month unfolds and:
Find out about our sponsors, special deals and online activities and events.
Find and participate in AP Month celebrations near you.
Use our toolkit to plan your own AP Month celebration.
Register your events so that others can find you and join in your celebration.
Share your stories, photos and more.
Join API or make a donation to further our mission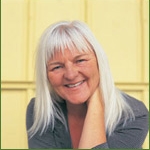 Getting Real with Peggy O'Mara

on Ask API Live!
Join us on October 27 for a frank discussion of why it's so difficult for parents to be real with their children, and each other, with Mothering Magazine Editor-in-Chief Peggy O'Mara.
Topics include:
authentic parenting: obstacles to living our truth and modeling it
all wired up but disconnected: can you hear me now?
how we learn to doubt our authentic needs as early as infancy
reclaiming our intuitive voice and trusting it in a sea of misinformation and naysayers
learning to enjoy our own presence in order to truly embrace our children
API Co-Founder and author of "Attached at the Heart" Barbara Nicholson will be joined by special guest Peggy O'Mara and moderator Lu Hanessian, author of "Let the Baby Drive," to deliver this amazing edition of Ask API Live.
API Essay/Photo Contest

If you're a writer, write it and submit it. If your pictures are worth a thousand words, send a photo instead! Enter one or both contests - they're separate and we'll even be awarding prizes in the category of expectant parents.

So write or click and submit! Everyone is encouraged to enter no matter how small or large the family (or belly)!


We've got some special prizes lined up and some are just for expectant parents so everyone is encouraged to submit entries no matter how small or large the family!

Check AP Month Central for the details of essay and photo contests in celebration of our theme "Giving Our Children Presence."
API Membership Deals You Can't Afford To Miss
Not an API member yet? Now's the time to join! Buy, renew or gift one API Membership during October you'll receive a Gift Membership or a limited book offer for FREE!

New professional memberships are offered with valuable discounts never offered before!

Take advantage of these unprecedented offers today, get a jump start on your holidays and tell everyone you know!
Stephanie Petters
is happy to respond to questions about these offers or about API member benefits.
AP Month Merchandise & Other Specials

Purchase AP Month merchandise from
Café Press
to sell at your event, give as volunteer thank-yous or as giveaways for prizes for raffles!
There's something for everyone - even onesies for babies!
Purchase a sling from Dr. Sears and a percent will be donated to API during October!

Calendar of "Daily Presence" on AP Month Central to provide a point of reference, tips and ideas for "Giving Our Children Presence" every day of the month!

Send us your stories and photos to post on AP Month Central.

Check back often to hear about more free giveaways!
Our Mission

is to educate and support all parents in raising secure, joyful, and empathic children in order to strengthen families and create a more compassionate world.
Read the
API Eight Principles of Parenting
Find/Register AP Month Events

Find out if there are AP Month events near you and if not, use the toolkit on the site to plan activities or events and then be sure to register your events so that others can find you and join in!
Do you live near Fresno CA?
If so,
Gena Kirby
, API Board member and co-owner of Mommy Matters Maternity Boutique and Family Resource Center, invites you to join her each Saturday in October for free seminars on topics such as Safe Sleep, Positive Discipline, Breastfeeding and Babywearing. Look for her events and information on AP Month Central!
Our Partners