Dear Supporter,

Why? Why? Whyyyyyyyyy?

Are you asking yourself why every child asks so many "why" questions? The curiosity of young children is contagious (and, well, sometimes frustrating!). Their minds are expanding and they're becoming inquisitive about the world. They approach the world with endless thirst for knowledge ... which frees us to become creative with our parenting.

Does your child has a serious case of the "whys"? Do you too? Then you're at the right place!
Welcome to Attachment Parenting Month. This year's theme is "Parenting Creatively: The Art of Parenting."

I loved the curiosity of children so much that I decided to homeschool. My kids, now 17, 15, and 13, have been homeschooling for almost all of their educational lives, and I wouldn't have it any other way. For many, homeschooling is a natural extension of Attachment Parenting. It was for us.

In fact, I love API and homeschooling so much that I'm offering two hours of consultation on homeschooling from an AP perspective in the AP Month online auction. I hope you might consider contributing something to the auction too.

Be sure to check out all of the fantastic offerings in the auction here, from a vacation stay in Hawaii or Colorado, to books and DVDs, to one-on-one coaching, and even to hot air balloon rides! Bidding begins October 18.

Do I sound excited? You bet. You simply can't miss it!
Camille North,
API Links Editor
Please let us know what you like and what could be better about Links.

API is a free enewsletter, dedicated to bringing you information to support you in your parenting journey.
---
Proving the Risk of Harm in Early Sleep Training
"A new review paper out in the Journal of Developmental and Behavioural Pediatrics has me hearing choirs, seeing the clouds part, and sun shining down (and I live in Vancouver, BC so it's not something I see very often) over finally seeing someone address the issue of sleep training in young children by summarizing ALL the research (albeit only until six months of age). This new review paper examines all articles from 1993 to August 2013 that examined the effects of sleep training on infants younger than six months of age."
How Co-Sleeping Horror Stories Sensationalize the Fact
Headlines declare the practice risky - so why does the data say otherwise?
Despite Dangers, Bed-Sharing with Kids Is on the Rise
Over the last 20 years, the number of parents sharing a bed with their infants has doubled.
Pictures of Russian Parents-to-Be Will Warm Your Heart
Jana Romanova's photography series "Waiting" packs serious aesthetic and emotional punch. Taking aerial images of expecting parents (who are also friends), Romanova beautifully captures the dynamic love that exists between young couples about to have a child. Rather than take live action shots, Romanova captures her couples in the early hours of the morn, while they are fast asleep, in order to photograph her subjects at their serene, vulnerable, and honest. The result is a series of images that resonate with warmth and love, as the unique relationship of each couple is wholly demonstrated through physicality and without conscious restraint.

Check out the rest of the news here ...

---
Our Most Popular AP Month Activity Is Back!
Celebrating our theme of parenting creativity this year, we're now voting on our favorites! Visit the API Facebook page and choose yours.
---
Why
do we choose the partners we do?
Why do they seem to have some characteristics that resemble those of our caregivers?
Why does it seem that opposites attract?
How is the communication in the relationship enhanced so that both parties are heard?
How can the relationship be taken to the next level of love?
We'll discuss these questions as well as passages fromthe book in our September and October API Reads program of

Getting the Love You Want

by Harville Hendrix

.
Remember our discussions happen online at

GoodReads

.
---
October Is National Bullying Prevention Month
Every October, schools and organizations across the country join STOMP Out Bullying™ in observing National Bullying Prevention Month. The goal: encourage communities to work together to stop bullying and cyberbullying by increasing awareness of the prevalence and impact of bullying on all children of all ages.
---
Sneak a Peek at the Goodies in the Online Auction!
Get ready for bidding, starting October 18th and ending October 31st. There's some great stuff up for grabs!

---
Announcing the
Journal of AP
This week, API debuts the Journal of AP, a compendium of recent research associated with API's Principles of Parenting. Join API today - it's free - for your access to this important new publication, and watch for the announcement.

---
Presenting a New Edition of Attached at the Heart
The new edition of Attached at the Heart is available now from your favorite retailer. Read about it, see what's new in this edition, learn where they will be signing books, read Lysa and Barbara's latest post - and place your order, too.
Get Ready - Bidding Starts This Friday, October 18!
The API Online Auction opens for bidding this Friday, October 18, 2013, at 8:00 AM EDT Time.

The API auction is an exciting, 14-day event where you'll find a variety of one-of-a-kind items up for grabs at unbelievable prices. Stock up for holidays or year-round gifts for special someones.

View all auction items now!
Register, place your bids, and check back frequently to stay on top of this exciting and fast-paced event that benefits your favorite cause!  

Our goal is to raise $15,000 to support parents and children through free, research-based, parent information and support.

Check back often to see what's new. Feel free to place a Watch on your favorites, so that you'll know as soon as bidding begins!
---
API Volunteers Make
All the Difference
See the messages from the AP community in acknowledgment and appreciation for all our volunteers do for families.

Thank you to all the API volunteers, from 1994 to today!
---
Rate us today at
Great Nonprofits!

---
---
Honor Someone Special and Help Parents in Need

Donating to API is one of the most powerful investments you can make. Donation to API and API will post your tribute to your honoree, notify them of your message, and enlist you to learn more and share about API by sending you these great resources!
---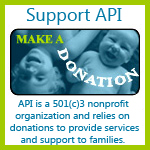 ---
Support the mission of API and connect with your target audience.
Contact us
to help you create an advertising package to fit your message and budget.
---
API is proactively engaged with organizations with diverse missions and activities in order to leverage and expand our work in supporting all parents, children and families to promote secure attachments and strong, positive relationships.
---
Want to Change a Life?
You can now apply online
and learn more about
becoming an API Leader!
---
Did You Have an Aha! Moment Reading One of These Links?
If so, we couldn't be more pleased to serve you. Help us serve others too. Please consider donating $20, $10, or even $5. API is a non-profit organization and it depends on your tax-deductible donations.
---
Photos by Abigail Batchelder (abbybatchelder) from here and Ines Hegedus-Garcia (miamism) from here.
---
---