API Links you to...

News on nursing in public (and a phenomenally helpful right-to-breastfeed letter that YOU can use as a model), a Harvard study showing that kids need touch and attention, unraveling stress with support, the new "APtly Said," and the effects of a mother's touch...
Thank You for Celebrating Another AP Month with Us!
We hope you followed our celebration of Relax, Relate, Rejuvenate: Renewed with Parent Support. Visit AP Month Central any time to recapture the information and support shared during the month. Thank you to everyone who donated, bid, blogged, read, photographed looked at and created and attended activities and events of the month. Special thanks to all the parent support groups, and our partners and sponsors who make AP Month better each year: AskDrSears.org, Attachment Parenting Canada, Lamaze International, Pathways Connect, Infant Massage USA, Holistic Moms Network, Mothering Magazine, Families for Conscious Living, and Family and Home Network. Extra special thanks to our AP Month team, led by Art Yuen, with Angela Adams, Ashlee Gray, and Kelly Jenkins.

AP Subject of Public Television Documentary, API Blog Editor Featured, Shares Experience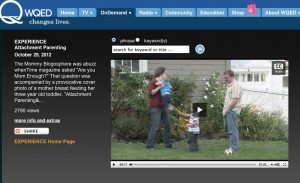 "You've been given an opportunity here. Either you can say what you think the world needs to hear about Attachment Parenting, or someone else can say what they want to say." API consulted in this short documentary on AP families that was produced by Alicia Schisler. This piece takes you inside the homes of three families who practice Attachment Parenting, including API's blog editor, Courtney Sperlazza. It explores the AP philosophy and shows where it fits into the lives and realities facing today's parents.
The Most Remarkable - and Useful - Right-to-Breastfeed Letter You've Ever Read
Have you ever wanted to send that perfect letter explaining your right to breastfeed? Here's a model you can follow, with all the facts and citations, written by a mom who was asked by her children's school principal to breastfeed in a private room.
From the letter: "You could see more of a Disney princess's breast than I show of mine when I am breastfeeding, but presumably someone complained, or for some reason mentioned it to you. If that should happen again, I hope that instead of addressing other mothers in this way, you will consider informing anyone who complains that she is protected by law."
And this: "a parent who does not want his or her child to see a baby being fed as nature designed, does not outweigh my right to less postpartum anxiety and depression, and a decreased risk of osteoporosis, uterine and ovarian cancer, and breast cancer, which killed my mother when she was 43 years old."
Chilling Brain Scans Show the Impact of a Mother's Love on a Child's Brain Size
A shocking comparison of brain scans from two three-year-old children reveals new evidence of the remarkable impact a mother's love has on a child's brain development.
Trickle-Down Anxiety: Study Examines Parental Behaviors That Create Anxious Children
Parents with social anxiety disorder are more likely than parents with other forms of anxiety to engage in behaviors that put their children at high risk for developing angst of their own.
Bullying Has Long-Term Health Consequences
Childhood bullying can lead to long term health consequences, including general and mental health issues, behavioral problems, eating disorders, smoking, alcohol use, and homelessness.
The Heart Grows Smarter
The Grant Study, which has followed its subjects for nine decades, shows us that "What goes right is more important than what goes wrong." The positive effect of one loving relative, mentor or friend can overwhelm the negative effects of the bad things that happen. The magic formula is capacity for intimacy combined with persistence, discipline, order and dependability.

Prepare for Pregnancy, Birth, and Parenting
Infant Bonding Decreases Chance of Behavioral Problems Later in Life
Cuddling and closeness by a doting parent or parents in infancy may make for better-adjusted kids later on.
Mother's Touch Could Change Effects of Prenatal Stress
Scientists have found that mothers who stroke their baby's body in the first few weeks after birth may change the effects that stress during pregnancy can have on an infant's early-life development.
Lamaze Toolkit for Childbirth Educators: A Valuable New Resource for Any Childbirth Educator
Lamaze International unveils a brand new resource for childbirth educators.

Prepregnancy Anxiety Linked to Excessive Infant Crying
Women who have anxiety disorders prior to pregnancy may deliver infants who cry excessively.
---
Available Now! The Attached Family: Making Sense of Parenting in the Media, 2012 Issue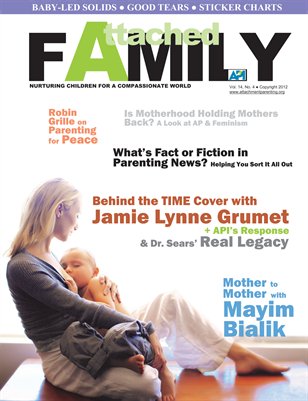 The Attached Family magazine, Making Sense of Parenting in the Media 2012 issue, is available now. Access your copy today with your API Membership.
Members click here (use login information provided in your email notice, or visit the API Member Forum). Not a member? Join today. It's free.
---
Feeding with Love and Respect
Hospitals Ditch Formula Samples to Promote Breastfeeding
For years, virtually every new mother has been sent home from the hospital with a gift bag full of free product samples, including infant formula. Now health authorities and breastfeeding advocates are leading a nationwide effort to ban formula samples, which often come in stylish bags with formula company logos. Health experts say they can sway women away from breastfeeding.
Boosting Breastfeeding Rates Saves Lives and Money: Unicef
Improving breastfeeding rates in Britain could save hundreds of lives by preventing breast cancer in mothers and hospital admissions in babies, Unicef has calculated.
Study Shows Breastfeeding Reduced Risk for Breast Cancer
Breastfeeding reduces the risk for estrogen receptor-negative and progesterone receptor-negative breast cancer. Researchers examined the association between reproductive risk factors - such as the number of children a woman delivers, breastfeeding, and oral contraceptive use - and found an increased risk for this breast cancer in women who do not breastfeed.

Breastfeeding Mums Welcome
Are you a breastfeeding mother who would like to recommend a business for the Breastfeeding Welcome Scheme?
The Breastfeeding Welcome Scheme has been established by the Welsh Government to identify premises that understand and support the needs of breastfeeding mothers and their babies. For a new breastfeeding mum it can be daunting to venture away from home, especially if she doesn't know where to go to feed her baby.
Responding with Sensitivity

The Psych Approach
In the 1990s, Vincent Felitti and Robert Anda conducted a study on adverse childhood experiences. They asked 17,000 mostly white, mostly upscale patients to describe whether they had experienced any of 10 categories of childhood trauma. They asked them if they had been abused, if their parents had divorced, if family members had been incarcerated or declared mentally ill. Then they gave them what came to be known as ACE scores, depending on how many of the 10 experiences they had endured. The link between childhood trauma and adult outcomes was striking.
Children Need Touching and Attention
"America's "let them cry" attitude toward children may lead to more fears and tears among adults." "Instead of letting infants cry, American parents should keep their babies close, console them when they cry, and bring them to bed with them, where they'll feel safe." Harvard University Gazette

Children, Teens at Risk for Lasting Emotional Impact from Hurricane Sandy
"The lasting emotional impact of a storm like this can be more devastating than the physical damage the storm caused," says psychologist Esther Deblinger, PhD, the co-director of the Child Abuse Research, Education and Service (CARES) Institute at the University of Medicine and Dentistry of New Jersey-School of Osteopathic Medicine. Dr. Deblinger offers suggestions for parents and caregivers helping children cope with the stress and anxiety resulting from Hurricane Sandy.
Ensure Safe Sleep, Emotionally and Physically

Why Today's Kids Don't Get Good Night's Sleep
Too many fizzy drinks and not enough bedtime stories are reasons why the younger generation does not sleep as well as their grandparents.
Sleep Training Study Findings Not the Final Word
Attachment Parenting International (API) and other researchers encourage parents to reject the pervasive notion that parental sleep can only happen, or best happens, when we purposely and repeatedly ignore and dismiss the distress calls of our babies and children at night. Read more about API's response to the recently published Pediatrics study on "behavioral infant sleep intervention" that's garnering headlines saying sleep training is safe.
---
---
Understanding Temperament in Infants and Toddlers
A child's temperament describes the way in which she approaches and reacts to the world. It is her personal "style." Temperament influences a child's behavior and the way she interacts with others . While temperament does not clearly define or predict behavior, understanding a child's temperament can help providers and families better understand how young children react and relate to the world around them. Information about temperament can also guide parents and caregivers to identify children's strengths and the supports they need to succeed in their relationships and environments.
Developing Brains
"The emerging science of brain development shows that to develop properly, a child's growing brain needs nurturing long before formal schooling starts at age 6 or 7. Investments in prenatal health and early childhood development programs that include education and health are essential to realize this potential." World Bank, 2011.
"Mother's Kiss" May Dislodge Objects Stuck in Child's Nose
The "mother's kiss" technique helped dislodge foreign objects from children's noses in 60% of reported cases.
---
---
Consistent and Loving Care

Fatherhood: Parenting Programs and Policy - A Critical Review of Best Practice
This document reviews policies and programs that promote or facilitate the involvement of fathers and father-figures from the prenatal period through the first eight years of their children's lives. It aims to establish evidence of these programs' potential to impact family violence, child abuse, or children's health or learning outcomes.

Measurable and Predictable Love
"So, could the human version of licking and grooming - hugging and kissing babies, and reading to them - fortify our offspring and even our society as well?" One University of Minnesota study found that whether a child received supportive parenting in the first few years of life was at least as good a predictor as I.Q. of whether he or she would graduate from high school.
Practice Positive Discipline

5 Encouraging Phrases Kids Need to Hear
Encouragement is about teaching kids to see the value of their own accomplishments and to be in charge of their own success. It fosters internal strength and motivation by keeping the focus of children's behavior on themselves instead of anyone else. As psychologist Rudolf Dreikurs said, "A child needs encouragement like a plant needs water."
Strive for Balance in Personal and Family Life

Why Are 5 Million Kids on Facebook If It Doesn't Want Them?
Facebook has an ugly little secret, a number disclosed nowhere in its voluminous filings to become a public company and now only vaguely addressed by corporate officials. An estimated 5.6 million Facebook clients - about 3.5 percent of its U.S. users - are children who the company says are banned from the site.
---
APtly Said
Introducing APtly Said, the API blog and voice of the community's new name and, soon, new look. Sign up for the RSS feed, and don't miss these installments that Ways of Parenting with Attachment in Mind.
---
Are Parent Support Groups Relevant Anymore?
API cofounder Lysa Parker writes about the necessity of face-to-face support groups. "We will always need support because we were never meant to raise children in isolation - and shouldn't."

Papas and Mamas Sing for Healthy Birth Posters for Sale
Get an exclusive Papas and Mamas Sing for Healthy Birth autographed screen print poster for only $15! A perfect gift, featuring limited editions with autographs by Delbert McClinton, Ina May Gaskin, Dr. William Sears and Martha Sears. Contact us to get yours!

---