Dear Supporter,

For the last few days, my son has been hunched over an application for a summer program at NASA. I've been helping him, shoulder to shoulder, when he needs it, and I find myself staring at him when he's not looking. It's his junior year, and he'll soon be filling out college applications.

How did we get here?
My son was "that" kid. The one who shrieked in anguish when another child got the green cup. The one who hid under the table screaming with his hands over his ears when party-goers sang "Happy Birthday." The one who completely disrobed when a drop of water touched his clothes. The one who yanked the dump truck out of the hands of an unfamiliar toddler at the park sandbox.
He was also the one who had hour-long meltdowns several times a day … every day … for months, sometimes until he'd lose his voice. He was the one who would wake with night terrors about being abandoned in the woods, even though I was sleeping next to him. He could have been the poster child for "The Spirited Child."

He had a difficult childhood. It started when we was born fourteen weeks premature. A micro-preemie who should have had all sorts of health issues. A two-pounder who couldn't even be stroked or held until he was a week old. But he was a fighter, and he never even had to be on oxygen. The NICU staff called him the Miracle Baby. (They also called me the Dairy Queen, but that's another story!)
So how did we get here?
All I can think of is the hours upon hours of holding, rocking, singing, carrying, cosleeping, and loving that my husband and I did - thousands of hours. I gave him Kangaroo Care for four hours at a time in the NICU, until they made me put him back in his warmer. I carried him in a baby backpack as soon as he could hold his head up while I did housework and made dinner. My husband and I cuddled him through his screams and walked him long into the night.
So here we are.
Looking at the beginning of the end. The beginning of his adulthood, as a strong, confident, self-assured man. And the end of the difficulties of a childhood with a rough start, a complicated middle, and a promising finish.
Were all those hours of holding, cuddling, and crying together worth it? You bet. I wouldn't trade a minute of it. API's Attached Family magazine--out now--explores what "Loving Uniquely," was for us and is for many families, along with many other parenting topics, in the latest issue.

Will I be sad to see him go off to NASA (if he gets in) and then to college? Sure. But that's what we work toward, right?
I stare at the back of his head, with his ginger hair, and he speaks to me in his dad's voice. "Mom, do you think this is good enough?" Oh yeah, I do. And then some, kid. And then some.
*****
Please welcome Amanda Kail of API of Portland, Oregon, as our newest API Leader. Welcome, Amanda!

Camille North,
API Links Editor
Please let us know what you like and what could be better about Links.

API is a free enewsletter, dedicated to bringing you information to support you in your parenting journey.
---
API Links you to...

We have a bunch of interesting new articles for you this month! Learn about hospitals that don't market formula, the relationship between oxytocin and depression, API's new Journal of Attachment Parenting, the redefinition of "term pregnancy," and much more. You can see it all on our new APedia site, the easy new way to find out what's up in the AP world.
---
Protecting Children from Toxic Stress
Imagine if scientists discovered a toxic substance that increased the risks of cancer, diabetes and heart, lung and liver disease for millions of people. Something that also increased one's risks for smoking, drug abuse, suicide, teen pregnancy, sexually transmitted disease, domestic violence and depression - and simultaneously reduced the chances of succeeding in school, performing well on a job and maintaining stable relationships? It would be comparable to hazards like lead paint, tobacco smoke and mercury. We would do everything in our power to contain it and keep it far away from children. Right?
Spanking Tied to Later Aggression among Kids
Think spanking will help teach an out-of-control child to stay in line? A new study suggests the opposite may be true.
Poverty, Parenting Linked to Child Brain Development
Children who grow up in poor families may have smaller brains than their more well-off peers, says a new study. But good parenting may help overcome that disadvantage.
Dr. Hale on Revising Drug Label Info for Women
Thomas Hale, professor of pediatrics and founding director of the InfantRisk Center at Texas Tech University Health Sciences Center in Amarillo, hopes the Food and Drug Administration will put information on nursing safety on the package inserts included with over-the-counter medications.
For now, most drug labels contain a simple statement that cautions women against taking most OTC drugs while pregnant, Hale said.
"If you pick up any package insert, you see the same language: 'There are no data available on this drug. Do not use in breast-feeding mothers,'" Hale said.
An FDA committee recently invited Hale, who has more than 30 years of experience and has performed extensive research into the transfer of medications into breast milk, to give a presentation on developing new drug labels.
Threats, Lies, and Bribes: Parenting for the New Millennium
"It was bedtime, and our four-year-old son, Master M., was imploding. This was a seriously exhausted kid who was serious about not going to bed. Every move was ratcheting up the level of chaos—curtains were coming down, toys were sailing through the air, Cookie Monster at his most annoying was channeled. My husband, Dan, and I were losing it. We had tried firm statements like, 'We know you're having fun and it's hard to go to bed. But now it's bedtime.' In a moment of sheer desperation, Dan had taken the Master outside to run around the house with the hope that it might exhaust him. We had tried bribes (an extra book), and then threatened no books (which, by the way, we have never—not even once—actually managed to rise to the challenge of implementing as a tool of punishment, books being too sacrosanct in our house to use effectively). We had shouted—loudly. Finally, Dan picked the Master up and proclaimed that they were going for a ride in the car (where M. could be strapped in). 'But I want Mommy,' he wailed. I stood to the side, rendered impotent by my son's upset, my husband's furious resolve, and my own desire for the mayhem to just cease. When they finally got to the car door, Master M. grabbed the sides and held on, screaming as if we were about to shut him in a dark dungeon. Lest the neighbors think we were total monsters, Dan relented. Finally, a tearful child snuggled up in my arms to listen to his customary three books and three songs and then, exhausted, he fell asleep. Silence came over the house. But I found myself wondering, 'What just happened? And did it have to get so crazy?'"
Check out the rest of the news here ...

---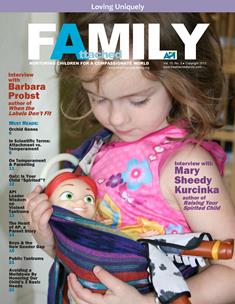 Available Now!
Your Attached Family:
"Loving Uniquely" Issue
The Attached Family 2013 "Loving Uniquely" issue is about loving each of our children as individuals with unique character traits. But this can be difficult to do in a culture that increasingly blames behavior on disorders and difficult temperament. "Difficult" and "different" are not synonymous with "disordered"....

In this issue of The Attached Family, we delve into temperament and how it intersects with parenting and the development of attachment style, and we challenge the notion that every hard-to-handle child needs a diagnosis.
Join now to access your issue, as well as past issues of Attached Family magazine.
---
The Chief of Developmental and Behavioral Pediatrics at the Cohen Children's Medical Center of New York contacted LLLI for help with a breastfeeding survey. His division is interested in studying the experiences of mothers who chose to breastfeed their infants beyond one year of age. They are particularly interested in learning more about these mothers' experiences with their health care providers, families, and friends regarding prolonged nursing and where these mothers found the support they needed.
No mothers, babies, milk supplies, or breastfeeding relationships will be put at risk by a mother's participation in this study. There is no outside funding or conflict of interest. The survey has been reviewed and approved by the Cohen Children's Medical Center Institutional Review Board. The LLL USA Council has also reviewed the survey.
Eventually the researchers' goal is to share the results at the annual Pediatric Academic Societies' meeting - the preeminent pediatric research meeting. They also plan to submit the findings to one of the peer-reviewed pediatric journals for publication and perhaps to the American Academy of Pediatrics as well. The results could eventually impact the training of young pediatricians during their residencies. The results may also provide support for funding opportunities for LLL.
Please help in the distribution of this survey through all the appropriate channels to which you have access and encourage others to do the same. We are hoping for a very large nationwide response from current and former LLL Leaders, members, friends, and from mothers who have not yet met LLL, too! This survey is for all mothers who have ever breastfed a child beyond a year.
While we are hoping for a surge of responses right away, the study will continue through mid-April.
Thank you for your help in sharing the survey!
---
What's on Your Night Stand?
Need something good to read? Check these out:
The Science of Mother-Infant Sleep: Current Findings on Bedsharing, Breastfeeding, Sleep Training, and Normal Infant Sleep
edited by Dr. Wendy Middlemiss and Dr. Kathleen Kendall-Tackett
New parents often worry about their babies' sleep. Is bedsharing safe or does it increase the risk of SIDS? Is sleep training safe or is it harmful? When should babies start sleeping through the night?
New parents and practitioners need evidence-based advice, not hype and scare tactics. The Science of Mother-Infant Sleep: Current Findings on Bedsharing, Breastfeeding, Sleep Training, and Normal Infant Sleep, a new book published by Praeclarus Press, addresses these questions and more.
This Hurts Me More Than It Hurts You:
In Words and Pictures, Children Share How Spanking Hurts and What to Do Instead
by Nadine Block and Madeleine Gomez
"This book is a long time in coming. It should have been written 30 years ago. Can you believe parent/adults are still spanking, hitting, beating kids? And not just at home - at school, at the store and at houses of worship."  --Robin

Breaking the Paddle: Ending School Corporal Punishment
by Nadine Block
"One hundred years from now, people will marvel that we once lived in a country where violence against children was not only condoned but sanctioned by law. This future generation will also be grateful for the work of Nadine Block and so many others who fought the good fight to end the infliction of pain as a means of disciplining children. This book tells the story of these courageous few - and shows us all there is still time to be on the right side of history."  --Victor Vieth, Executive Director, National Child Protection Training Center
---
---
---
On High-Reactive Temperaments and Secure Attachment
"I attended a mother-and-tots group the other night. There were two babies in the corner, sitting in their car seats, one about two months old and the other closer to four months. The older baby was contently looking around, and the younger was sleeping, later waking to gaze out and only fussing when it was time to eat, afterwards being happy to lie on a blanket on the floor. I asked the mom of the younger baby how it was going at home, and she said that her baby is so quiet and calm that it's sometimes easy to forget that there is a baby at home.

"I can't imagine...."
---
See What's New in Our Store!
Visit our store for new AP gift packages!

---
Join Lysa Parker and Barbara Nicholson
on the "Parenting for a Peaceful World" Tour
with Robin Grille! 
In this two-day event in the historic, revolutionary village of Yorktown, Virginia, you will hear Lysa introduce Robin Grille, who will speak on the psycho-social history of parenting in the 300-year-old sanctuary of Grace Episcopal Church on Friday night.
Lysa and Barbara will also speak at Saturday's conference and before Robin's "Heart to Heart" Parenting Workshop.
This rare retreat with some of the most progressive and passionate leaders of the attachment parenting community will sell out quickly.
Please click here for more information on directions, meals, and lodging and check out the individual event pages for Friday night and Saturday. You can also find the event on Facebook.
December 6 and 7, 2013

---
---
Thank You for Celebrating AP Month 2013 "Parenting Creatively" with Us!

We hope you enjoyed the exploration into expanding how we think about parenting. We hope we have encouraged more parents to think out of the box, engage in the art of parenting, and be the parent our children need.
Thank you to everyone who participated in our Parenting Creatively photo exhibition, the APtly Said blog event, the AP Month Auction, and local celebrations and who supported AP Month as Partners and Sponsors.
A special thank you
to Kelly Johnson, Ashlee Gray, Jennifer Yarbrough, Kelly Bartlett,  Art Yuen, and all the API Leaders for pulling it all together this year!
You can still
- Check out the photo favorites
- Review the Daily Calendar tips
- Read the blog posts on APtly Said
- Read about Parenting Creatively
- Support the partners who made it possible
- Contribute to AP
---
Are You Feeling Creative Yet?
As your holiday to-do list undoubtedly begins to grow, we hope that AP Month this year has stretched your relaxation muscles and enabled you to prepare for and remedy stress in a whole new way.
Think of AP Month as a 31-day practice run - a warm up - to building resources, tips, and support to access your own personal ways to creativity year round.
Reduce your stress by plugging into all of the accumulated tips and wisdom stored at AP Month Central.
---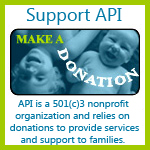 ---
API Volunteers Make
All the Difference
See the messages from the AP community in acknowledgment and appreciation for all our volunteers do for families.

Thank you to all the API volunteers, from 1994 to today!

---
Support the mission of API and connect with your target audience.
Contact us
to help you create an advertising package to fit your message and budget.
---
API Invites You To:
"Your Extraordinary Family Life" with Carrie Contey, PhD
API is proactively engaged with organizations with diverse missions and activities in order to leverage and expand our work in supporting all parents, children and families and advance our message promoting secure attachments and strong, positive relationships.
Are you interested in BEing More and DOing Less as a person, parent and partner? Are you looking for ideas, inspiration, and tools that will bring more ease, joy, connection, and love to your most cherished relationships?
Join Carrie Contey, PhD, and 15 of the brightest minds in the areas of parenting, human development, psychology, neuroscience, holistic nutrition, slow living, and personal growth to discuss how you can make family life blissfully your own. No matter what stage of life your little ones are in - babyhood, toddlerhood, childhood, or teenhood - this heart, mind, and soul-quenching event will inspire and provide you with the practical tools to create and live the life of your dreams, together.
Register now to listen to "Being More Free-Range" with Lenore Skenazy, Lu Hanessian on "Being More Respectful," and many more. Interviews with Dan Siegel, Larry Cohen, Peggy O'Mara, and many more are available.
---
API is proactively engaged with organizations with diverse missions and activities in order to leverage and expand our work in supporting all parents, children and families to promote secure attachments and strong, positive relationships.
---
Want to Change a Life?
You can now apply online
and learn more about
becoming an API Leader!
---
Did You Have an Aha! Moment Reading One of These Links?
If so, we couldn't be more pleased to serve you. Help us serve others too. Please consider donating $20, $10, or even $5. API is a non-profit organization and it depends on your tax-deductible donations.
---
Photos by Eden, Janine, and Jim (edenpictures) from here and Pen Waggener from here.
---
---