Happy Holidays from API!
---
API Links you to...

News on chatting with the Searses, childhood memories, family relationships, mom's sleep, baby's brains, moms' brains, the role of creativity in bonding, and the "love hormone."

---
Oxytocin Bolsters Childhood Memories of Mom's Affections
Researchers have found that the naturally occurring hormone and neurotransmitter oxytocin intensifies men's memories of their mother's affections during childhood.
Relationship-Strengthening Class Improves Life for New Families
Expectant parents who completed a brief relationship-strengthening class around the time their child was born showed lasting effects on each family member's well being and on the family's overall relationships, according to a recent Penn State study.

---
---
Chat with Dr. William and Martha Sears!
Join us this December 27th through December 31st, as API's book club, API Reads, will have a special Forum to discuss The Healthiest Kid in the Neighborhood. Have your nutrition questions answered! The Searses are concerned about children's nutrition, as they see an increase in obesity and other typically "adult" conditions: Type 2 diabetes and heart disease. Don't miss this informative and imperative discussion with Dr. William and Martha Sears.
(Remember, the author chats are open only to paying API members and API leaders.)
---
---
Prepare for Pregnancy, Birth, and Parenting
Breaching the Breech Protocol
Researchers at Tel Aviv University are saying that, under certain circumstances, traditional vaginal delivery for breech babies is not only safe for baby, but even safer for mommy.
Overcoming the IVF Baby Blues: Hormones and Stress Are Major Contributors to Depression
New research finds that pre-existing stress, depression, and anxiety are more likely than hormones to cause increased levels of depression during IVF treatment. The research offers a new way to diagnose potential states of stress and depression, making for happier moms and a higher IVF success rate.
Online Map of Maternal Health to Inform and Influence World Leaders
Researchers from the University of Southampton have helped construct an online interactive world map, which gives stark facts and figures about the health of women during pregnancy, during childbirth, and following the birth of their child.
---
Need a Spectacular Gift Idea That Will Help the World AND Be Easy on Your Wallet?
Give the gift of API and take advantage of these two special limited-time offers!
Purchase 1 membership and receive a free teleseminar of your choice!
Purchase 5 teleseminars for $40 with a new family membership today. That's $5 off! Join now for this great special and receive all the other benefits of membership too!
(Discount code will be provided upon sign-up.)
Feeding with Love and Respect
New Sleep Cycle Discovery Explains Why Fatty Diets During Pregnancy Make Kids Obese
The link between sleeping and obesity is drawn tighter as new research shows that what your mother ate when she was pregnant may make you obese or overweight by altering the function of genes (epigenetic changes) that regulate circadian rhythm.

Pregnant Mother's Diet Impacts Infant's Sense of Smell, Alters Brain Development
A major new study shows that a pregnant mother's diet not only sensitizes the fetus to those smells and flavors, but physically changes the brain, directly impacting what the infant eats and drinks in the future.

---
---
API Live!
"How Much Is Enough? Attachment Parenting, Permissive Parenting and Overindulgence"
On this API Live! downloadable mp3 recording, hear hosts Lu Hanessian and API co-founder Barbara Nicholson talk with Jean Illsley Clarke about current information regarding parenting and tough traits like greed, helplessness, and self-centeredness. Purchase now, perhaps as one of your 25% off teleseminars! (See the home page for details.)

---
---
Breastfeeding Advocates Have Much to Be Thankful For
Advocates can celebrate several major accomplishments this year in USBC's work to advance breastfeeding. Check out their vision for the future.
Breastfeeding, Taking Turns, and Primitive Conversation
Mammals suckle their young at the breast. This is their characteristic feature. Human babies, however, are difficult eaters. We lose interest, get distracted, or fall asleep. Not so other mammals, who normally feed at the breast until they are full. Why are we different? Might it be that nourishment is not the only reason we suckle?

Fast-Food Companies Still Serving Unhealthy Meals, Aggressively Marketing to Children
An unprecedented new report on fast-food nutrition and marketing examines the actions of 12 of the nation's largest chains.
Babies Fed French Fries and Cake
The co-author of a new study into what Australian babies are being fed says its findings are the missing link on childhood obesity.
Healthy, Hunger-Free Kids Act of 2010 Passed Congress
This comprehensive, historic legislation will help improve the nutritional quality of school lunches, get junk food out of school vending machines, and support strong nutrition and physical activity policies and practices in schools and child-care settings.  The Healthy, Hunger-Free Kids Act (also known as the Child Nutrition Act) now goes to President Obama's desk and, according to the New York Times, he intends to sign it.

Responding with Sensitivity

Negative Parenting Linked to Childhood Aggression
Parents who blame genetics alone for their children's failings might be on shaky ground, as new research has pegged the onset of depression and antisocial behavior to a child's home environment.
Fighting Bullying with Babies
A group that brings infants into classrooms to teach empathy has
 produced sharp drops in bullying.
Ensure Safe Sleep, Emotionally and Physically

Survey Looks at Mother–Infant Sleep Locations and Nighttime Feeding Behavior
API Resource Advisory Council Member Dr. Kathleen Kendall-Tackett's latest study on the controversy of mother–infant bedsharing.

Nighttime Sleep Found Beneficial to Infants' Skills
Children who get most of their sleep at night (as opposed to during the day) do better in a variety of skill areas than children who don't sleep as much at night.
Breastfeeding Moms Get Just as Much (or Little) Rest as Formula-Feeders
Having a baby is the equivalent of deciding that an uninterrupted night's sleep is overrated. But mothers hoping to get a little more shut-eye by formula-feeding should put that notion to bed. It's just not true.
Consistent and Loving Care

Babies Learn Best from Parents, Not Videos
Sorry, Mom and Dad: that virtual babysitter you hoped was providing educational information for your tot is no match for interaction with you. New research finds that infants learn little to nothing from popular educational videos and learn the most from face-to-face interactions with their parents and other familiar figures.

Beyond Nature Vs. Nurture: Parental Guidance Boosts Child's Strengths and Shapes Development
Why does a child grow up to become a lawyer, a politician, a professional athlete, an environmentalist, or a churchgoer? It's determined by our inherited genes, say some researchers. Still others say the driving force is our upbringing and the nurturing we get from our parents.

Prolonged Maternal Separation Increases Breast Cancer Risk in Neonatal Mice
Young mice that experienced the psychosocial stress of prolonged separation from their mothers had a higher incidence and faster onset of breast tumors compared with young mice who did not experience this stressful life event. Specifically, neonatal mice separated from their mothers for a prolonged period of time developed mammary tumors twice as fast as mice that experienced short or no maternal separation.
Mother's Young Alter Brain's Response to Drug
The presence of a mother's young changes the way her brain responds to drugs, according to new animal research. The findings suggest new avenues of treatment for mothers who are recovering drug abusers.
TV Watching Is Bad for Babies' Brains
Babies who watch TV are more likely to have delayed cognitive development and language at 14 months, especially if they're watching programs intended for adults and older children. We probably knew that "24" and "Grey's Anatomy" don't really qualify as educational content, but it's surprising that TV-watching made a difference at such a tender age.
Practice Positive Discipline

Kenya Becomes 30th Country to Ban Corporal Punishment of Children
The latest edition of the Global Initiative e-newsletter reports on the achievement of full prohibition in Kenya, positive moves towards law reform in Asia and Africa, and campaigns in Africa, the Caribbean, Europe, and Latin America.

Progress in Efforts to Stop Spanking and Other Physical Punishments
Legislation to ban corporal punishment in schools has been introduced in the U.S. House of Representatives.
New Studies Examine Child Abuse in the United States and Five Other Countries
Twin studies find that parents commonly resort to physical punishment to discipline children and that bias in evaluation for child abuse persists at U.S. children's hospitals.
Strive for Balance in Personal and Family Life

The Discussion Continues...
Did Erica Jong get your blood boiling? See API's Letter in the November 13th issue of the Wall Street Journal in response to Jong's article (see last month's API Links).
Take a look at the reader comments on Jong's article and API's original letters to the Wall Street Journal.
---
The Kids Are All Right: Few Negative Associations with Moms' Return to Work Soon After Having Children
Children whose mothers return to work before their offspring turn 3 are no more likely to have academic or behavioral problems than kids whose mothers stay at home, according to a review of 50 years of research. But "... families who are not struggling financially may not see as many benefits of maternal employment on very young children.... for these families, it's possible that alternate care arrangements may not be as emotionally supportive as the child's mother."
---
What do you think? Jan Hunt disagrees with the previous article and is stirring up discussion.
In "The Daycare Dilemma," Jan Hunt writes, "No one should ever feel that she is 'only a mother' - motherhood should be more highly valued than any other profession. No other job is as critically important; no other job has the potential for improving our world by nurturing the capacity to love and trust others...." and "there is no question that a mother with a professional career who uses daycare for her children receives far more recognition and respect than the mother who has left a professional job to stay at home with her children - despite the fact that the at-home mom is in a position to contribute far more to society in the long term." Weigh in with your perspective in this API poll.

---
Parents Are the Key to Safe Teen Drivers
Car crashes - the #1 killer of teens - take about 3,000 young lives every year. That's 8 teen deaths each day that can be prevented. As a parent, you should know that the main cause of teen crashes is driver inexperience. All new drivers - even straight-A students and "good kids" - are likelier than experienced drivers to be involved in a fatal crash. It's a fact.

Oxytocin Increases Advertising's Influence: Hormone Heightens Sensitivity to Public Service Announcements
The hormone oxytocin makes people more susceptible to advertising, according to new research. The findings suggest that advertisements may exploit the biological system for trust and empathy.
Human Creativity May Have Evolved as a Way for Parents to Bond with Their Children
Evidence from Disneyland suggests that human creativity may have evolved not in response to sexual selection as some scientists believe but as a way to help parents bond with their children and to pass on traditions and cultural knowledge.

---
Your donations help us to reach millions of families through web and support groups. 
With your help, we can continue supporting families like yours with information and programs. 
Please make your gift today.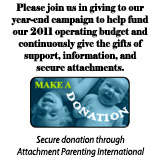 While many debate what attachment parenting is,
this short video written and produced, and song composed and performed, by our creative and passionate Board Member Lu Hanessian, captures the essence.
Please enjoy this
special video gift to you from the heart of API.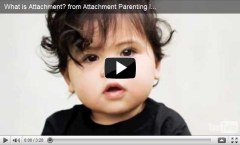 ---
Dear Supporter,

During this holiday season, amidst all the bustle and planning, take an extra moment to breathe, hug your kids, and cherish these special moments.

Remember what's really important in your life, and be grateful that you've chosen to spend your time with your children as a respectful, responsive, supportive, loving ... and attached parent.
This month's Links addresses all sorts of interesting questions:
- How safe are breech births for baby and mom?
- How does diet affect your baby's brain during pregnancy?
- How does the "love hormone" influence how men remember their moms and, um, how we react to public service announcements?
- Do formula-feeding moms get more sleep than breastfeeding moms?
- What's happening with fast food and our children?
- How do babies fight the battle against bullying?
- What do you think about working moms versus stay-at-home moms?
Tell us in our poll!

We're delighted to welcome our newest Leader, Olena Russell, of API of Victoria, Canada, and Elizabeth Pavlinsky, of API of Jacksonville, Florida. Welcome, Olena and Elizabeth!

From us here at API to all of you, have the happiest of holidays!
Camille North,
API Links Editor
P.S. API staff and volunteers will be celebrating with their families and on break from December 20 through January 2. Many services will remain available, although responses may be delayed. Thank you for your understanding.
Please let us know what you like and what could be better about Links

API is a free enewsletter, dedicated to bringing you information to support you in your parenting journey.
---
Kudos to API!

API Receives Grants,
Thanks to the Dr. William and Martha Sears
API recently received grants from the Cole-Belin Foundation and from Stonyfield Farms Inc., in support of API's work with parents and children. Thanks to Dr. William and Martha Sears!

API Honored by a Grant from the Saban Family Foundation
API is honored to be the recipient of a grant from the Saban Family Foundation in support of furthering API's mission. Read more about Foundation Trustee and AP mother Heidi Stills and this grant to API.

---
Want to Brag
About Your Kid?

Tell the world about your child's accomplishments!
Did she learn to kick a ball? Did he win a Nobel Prize? Did she share a toy on the playground?
Let the world know!

---
Trust - one of the biggest themes running through Attachment Parenting - trust in yourself as a parent, trust in your baby, and your baby's trust in you. We here at API want you to know that you can trust in us. We'll never sell your email address or your personal information.
---
API Is in the Top 50!
Let parents know about the positive support and information API offers! Vote for API at Babble.com as one of the 50 best Facebook fan pages that ease the load of parenting. Search, or sort alphabetically, for Attachment Parenting International and there you can "I like this"! There's no registration, login, or email required - just click and vote!
---
API Invites You
to check out the
Consciously Parenting Project's
January 14-16, 2011
Virtual Conference,
"Navigating the Current."
Find out more about this online experience of healing, play, and community!
---
In Honor of...

Margie McGagh Piotroski
~ Janet Jendron
Reedy Hickey, her daughter Hilary, and the new twins Ansley and Chloe
~ Janet Jendron
Tine Thevenin
~ Martha and Bill Sears
Read their full tribute.

---
CPSC Makes a Statement on Safe Babywearing
API is encouraged by the recent statement by the CPSC to educate parents on safe babywearing and recognize the long-held beneficial and safe practice of babywearing.
For additional information on safe babywearing, please see the
API Statement to the CPSC on Babywearing, visit a local API Support Group for babywearing assistance, or read and distribute the safe babywearing brochure, available free of charge as a download and for a nominal cost in the API Store.
---
Do Well and Do Good...
Advertise with API by December 31st for 10% off ad packages for the anticipated New Baby edition of The Attached Family magazine.
Contact us
for more information.

---
API is proactively engaged with organizations with diverse missions and activities in order to leverage and expand our work in supporting all parents, children and families to promote secure attachments and strong, positive relationships.
---
API Leaders change lives. New feature: You can now apply online and learn more!
---
Did You Learn Something New in This Month's Links?
If so, we couldn't be more pleased to serve you. Help us serve others too. Please consider donating $20, $10, or even $5. API is a non-profit organization and it depends on your tax-deductible donations.
---
Images by abbybatchelder from here and by mriggen from here.
---
Quick Links
---