API Links you to...

News on surprising facts about daycare and formula, colic, stress ... and what kind of parent are you?
API has entered its fund drive and turns to you for support. Please make a contribution today to support API.
Why Support Attachment Parenting International?
Your donations help us to reach millions of families through web and support groups. With your help, we can continue supporting all families with information and programs.
Here's the difference we made together in 2012
How Nurturing Babies Cultivates Empathy
Sue Gerhardt, author of Why Love Matters, illustrates the important connection between nurturing infants and the development of empathy.
Baby's Health Is Tied to Mother's Value for Family
The value that an expectant mother places on family - regardless of the reality of her own family situation - predicts the birthweight of her baby and whether the child will develop asthma symptoms three years later.

Digested Formula - but Not Breastmilk - Is Toxic to Cells
Free fatty acids created during the digestion of infant formula cause cellular death that may contribute to necrotizing enterocolitis, a severe intestinal condition that is often fatal and occurs most commonly in premature infants.

Early Stress Linked to Weaker Brain Connections, Anxiety
High levels of family stress in infancy are linked to differences in everyday brain function and anxiety in teenage girls, according to new results of a long-running population study.
Little Thank You, Big Impact
When you go out of your way to note what others do for you - praising a store clerk, thanking a waiter who was particularly agreeable - you do more for them than you think. You might not realize how far your seemingly "little" thank you goes. It's energizing to know that you have the power to start a chain effect of good deeds.
---
---
Available Now! The Attached Family: Making Sense of Parenting in the Media 2012 Issue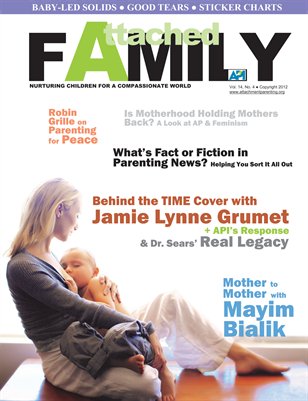 The Attached Family magazine by Attachment Parenting International, "Making Sense of Parenting in the Media 2012" issue, is available now.
Access your copy today with your API membership. Members click here (use login information provided in your email notice, or visit the API Member Forum). Not a member? Join today. It's free.
---
---
Prepare for Pregnancy, Birth, and Parenting
Colic Treatment? Manipulative Therapies May Be Beneficial Treatment for Infantile Colic
A review of studies into manipulative therapies for colic suggests that the treatment technique may be of some benefit.
What Kind of Parent Are You?
There are bookshelves filled with options: Tiger Mom or free-range, attachment or laissez-faire. Pick a guide, and become the parent that you wish to be. But a new study suggests that is exactly backwards. Parenting is not a system you choose, but an outgrowth of who you are; you don't select it as much as you let it find you. What is "good" parenting depends on the life you've lived and the values you hold.
Parenting Style Has Big Impact on Kids with Disabilities
The approach that parents take with their children who have developmental disabilities is directly tied to how cooperative and independent they become.
Feeding with Love and Respect
Breastfeeding and Emotional Development
Breastfeeding is becoming increasingly popular among new mothers across the United States. Many families are finding that breastmilk is nutritious for the baby and more importantly it helps to strengthen the emotional bond between mother and child.
Duration, Not Initiation, Is the Real Breastfeeding Battle
Finding ways to increase breastfeeding initiation is easier than finding ways to increase breastfeeding duration. It's the long haul that's tricky.
Baby Formula Ads in Sweden May Soon Be Banned from Featuring Babies
Sweden's government is on deck to take the next big stand against formula feeding. The Local reports that they have prepared legislation to remove images of babies from formula advertisements because such photos could "idealize" the product.

---
---
Love API? Lend Us Your Talents!
Check out these open volunteer positions:
Writer Liaison
Publications Project Manager
---
---
Responding with Sensitivity

Skills That Make Us a Good Partner Make Us a Good Parent
If your partner is sensitive, cooperative, and supportive, congratulations: He or she will probably be a good parent. The same skills that make people successful romantic partners also make them good parents, a new study finds.
MenCare: A Global Fatherhood Campaign
The organization MenCare bases its fatherhood campaign on evidence from the Global South and the Global North that "confirms that engaged, responsive fatherhood and men's participation in the lives of children are generally positive for children, women, and for men themselves."
MenCare Media and Resources
The MenCare Media & Resources page of the MenCare website displays the campaign's latest videos from around the world that demonstrate the ways in which men are engaging in fatherhood and caregiving. It lists publications on topics taken up by the videos and provides resources on campaigns to stop sexual violence against children.
Ensure Safe Sleep, Emotionally and Physically

U.S. Kids Getting Enough Sleep After All: Survey
Amounts reported for infants, children, teens are in line with CDC recommendations.
Breastfeeding and Cosleeping with Baby Affects Mom's Welfare
The decisions whether to breastfeed and share a bed with the baby not only affect the welfare of the infant but also the mother, a new study finds. The women in the study with the best stress hormone patterns were the ones who breastfed but refrained from sharing a bed with their baby, researchers found. The women who fared the worst were those who coslept and didn't breastfeed.

---
---
Special Section: Combating Violence and Abuse

Stopping It before It Starts: Strategies to Address Violence in Young Childrenís Lives
This document advocates for systematic and reliable measures of the effect of violence on young children and presents evidence that violence in young children's lives can be prevented through programmes such as home visitation, family strengthening, women's economic empowerment, alcohol regulation, and efforts to change social norms. It asserts that leaders need to engage more effectively in areas of social policy, such as social protection, employment, women's rights, and public security, and it suggests that more sophisticated communications strategies can drive sustained public political engagement and gain new champions for violence prevention.
Awareness Campaign Aims to Prevent Child Abuse
In response to the alarming prevalence of child abuse cases in Lebanon, the Social Affairs Ministry, in cooperation with Save the Children and the Higher Council for Childhood, launched a national awareness campaign Wednesday to combat all forms of violence against children.
Bridges to Adulthood: Understanding the Lifelong Influence of Menís Childhood Experiences of Violence
This report explores the prevalence and nature of violence against children as well as its potential lifelong effects. Using the International Men and Gender Equality Survey (IMAGES) data from six countries - Brazil, Chile, Croatia, India, Mexico, and Rwanda - the report expands understanding of these issues by examining data from low- and middle-income countries, by analysing men's reports of experiencing and perpetrating violence, and by examining broad categories of lifelong effects.

Website: "Violence Prevention"
This website is designed to provide a violence prevention resource for policy makers, practitioners, and others working to tackle and prevent violence both in the United Kingdom and globally. The centre seeks to promote and facilitate a public health approach to violence prevention through conducting original research and systematic literature reviews, and maintaining intelligence systems for measuring and monitoring violence.

"Violence Prevention": Evidence Base and Resources
Violence destroys the lives of millions of people throughout the world. In the UK alone, almost three million incidents of violence are estimated to be committed towards adults each year, with thousands more directed at children. Yet, violence and its devastating impacts on individuals, families, communities and wider society can be prevented.
---
---
Consistent and Loving Care

Daycare Linked to Being Overweight
Young children who attend daycare on a regular basis are 50% more likely to be overweight compared to those who stayed at home with their parents.
Spending Time with Dad Good for Teen Self-Esteem
Adolescent kids retreat to their rooms when you try to ask them how they are and hide out with their friends so often that they spend less and less time with family, right? Maybe not so much, according to a new study.
Many Parents Unaware of Children's Experiences in Daycare
Nearly 1.5 million Canadian children grow up living double lives: one at home with their parents and another in some form of childcare environment. While parents hope to be informed of what goes on when they're not around, a recent study suggests that parents ought to be more involved in the daycare experience, a major component of their child's development.

Strive for Balance in Personal and Family Life

How to Overcome Neediness
Have you ever felt needy? What comes to mind when you hear the word? When we're gripped by the terror of neediness, we feel completely out of control. When we bear witness to it, we feel confused and overwhelmed, wondering if any amount of reassurance will ever be enough. How can we understand these moments? More importantly, how can the needy find relief?
What Ails Us
Gabor Matť challenges the way we think about chronic illness, drug addiction, and Attention-Deficit Disorder.
Reducing Sibling Rivalry in Youth Improves Later Health and Well-Being
Sibling conflict represents parents' number-one concern and complaint about family life, but a new prevention program demonstrates that siblings of elementary-school age can learn to get along. In doing so, they can improve their future health and well-being.

ForbesWoman and TheBump.Com "Parenthood and Economy 2012" Survey Results
Survey results reveal everything from how moms feel about giving up their career (or not) for their baby to whether they resent the size of their husband's or partner's paycheck.

---