Nurse and Lactation Consultant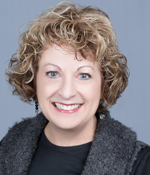 Kathy Parkes is the owner and CEO of Breastfeeding Perspectives, a registered nurse, an International Board Certified Lactation Consultant (IBCLC), a Fellow of the International Lactation Consultant Association, has a Masters degree in Nursing Education, and a Bachelor degree in Psychology. She has been an IBCLC since 1992 and has worked with new parents and babies in a wide variety of breastfeeding situations in the hospital, public health, home health, and private practice. This wide variety of experience gives her skilled clinical knowledge to share with others and to help expectant and new parents overcome difficulties and meet their breastfeeding goals.  Kathy's practice is the longest currently operating breastfeeding practice in the San Antonio area.
Additionally, Kathy has certifications as a Health Coach, specializing in prenatal, postpartum and breastfeeding as well as a Compassion Fatigue Educator, specializing in perinatal and infant loss.  Breastfeeding assistance has been provided to families of all types and sizes, in a wide variety of life situations such as adoption, surrogacy, LBGTQI families, teen parents, long-term nursing, multiples, incarcerated mothers, prematurity, chronically ill mothers and infants, and many other challenges.
A published author and active speaker on global platforms, Kathy finds passion in meeting families where they are and assisting them to meet their own goals in feeding and nurturing their babies.
As a leading provider of up-to-date, research-based lactation information, Breastfeeding Perspectives takes pride in offering the best teaching, presentations, peer training, business lactation consultations, in-person and online consults for breastfeeding preparation and problems. We are dedicated to serving the needs of our customers each and every day.  We can handle all type of breastfeeding situations and specialize in damaged nipples, tight oral tissues (tongue, lip, and buccal ties), milk supply issues, and slow-gaining infants.