CEO of TUFF Mama Time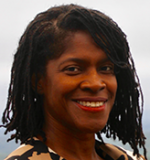 Valerie Bryant is CEO of TUFF Mama Time, inspiring women to nourish themselves while nurturing their children. Devoted to family-focused furtherance, she was an adjunct instructor, teaching business communications to incarcerated women and equipping them to re-bond with their children upon release. Her service on a national education board targeted low academic performance in minority children, encouraging change through increased parental involvement. Valerie was a Department of Defense government contractor working instructional design issues. She developed resiliency-based e-learning programs, relieving beleaguered military families. Valerie is a former La Leche League Leader and has served as a natural childbirth educator since 1992.  
Valerie earned a Bachelor of Science in math and her military officer commission from the University of Michigan. She earned a Master of Science from Troy University. Following active duty, she was a military spouse and full-time mom to her nine children - biological and adopted. Valerie sustained her family through untold military relocations and family hardships, earning the titles "TUFF Mama" and "Family Team Builder." She originated family-sustaining strategies, eventually authoring three parenting books, co-authoring one with her children. She operates an online moms' support forum, is a listed national speaker for Mothers of Preschoolers, and is on registry with several national speaker bureaus.
Born in Atlantic City, New Jersey, Valerie presently lives in San Antonio, Texas. She continues enjoying life as a mom, raising a few still at home, while also romping with her precious grandchildren.