Vol 17, No 4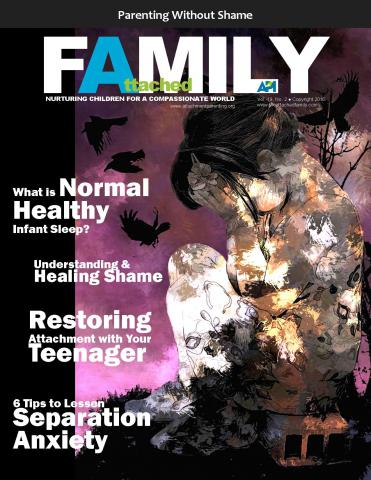 Attachment Parenting International's quarterly magazine, Attached Family, delves into the difficult area of shame, including the use and effects of shame in parenting for this Winter 2016 issue. In this issue of Attached Family, "Parenting Without Shame," edited by Publications Coordinator and Writer, Rita Brhel, API examines shame versus guilt and how shame contributes to emotional trauma. API looks at the intersect of parenting and shame, keeping in mind that shame is a normal emotional response to certain social situations, but like anger or disappointment, when unresolved, shame can lead to lifelong difficulties.

Inside this issue, parents and professionals will find mind-bending, inspiring, and empowering features that stretch thinking and interaction with children and others. Articles include:
"What is Shame?" by API Publications Editor Rita Brhel -- defines shame, how it differs from guilt, when it crosses the line to become toxic shame, and what parents need to know
"Core Beliefs Color Your Parenting," also by Rita Brhel -- explains how shame-based core beliefs affect our everyday decisions, including our parenting behaviors
"What Makes Emotional Trauma? Fear, Disconnect and Shame," an interview with Daniela Sieff, PhD -- explores the ingredients to developing a shame-based view of oneself and what is all involved in healing, which certainly underlines the importance of prevention through parenting
"Parenting as a Protest Against Hate" by Lauren Gottschalk-Scher, fashion designer -- looks at how parenting can be activism
"What is Normal, Healthy Infant Sleep?" by API KnowledgeBase Coordinator Art Yuen -- discusses what biologically normal sleep in infants, and adults, looks like and the effects that artificial light and work productivity expectations have
"6 Tips to Lessen Separation Anxiety," also by Art Yuen -- looks at goodbye routines and other ideas for children and their parents when separation is necessary, such as for working parents
"Self-Validation Before Self-Control" by Denise Durkin, MA, parenting consultant -- explains how development of a positive self-worth must be in place first before trying to teach a child self-control
"Engagement vs Redirection to Create Emotional Safety," also by Denise Durkin -- describes the differences between these two discipline techniques and why engagement may be the better choice
"11 Ways to Parent Outside the Box" by Brooke Campbell, MA, creative therapist -- gives ideas on how to incorporate more attunement in parenting
"How to Heal Attachment with Your Teen" by Shoshana Hayman, Neufeld Institute Faculty -- outlines how the teenage years can reveal attachment weaknesses and how to restore a close attachment when needed
"Of course, I think it's a beautiful issue, but I really am referring to this issue as a work of art," Attached Family Editor Rita Brhel said on this issue. "Working on the 'Parenting Without Shame' issue was unlike any that have come before. I didn't realize how little I knew about shame as a topic. Shame is a term used often in parenting and parent education circles, but do we really know what shame is? So much of putting this issue together came down to doing the research and soul-searching to really understand the differences between shame and guilt, and shame as a normal emotion and when it crossed into unhealthy territory and the effects of that toxic shame and then the sheer enormity of effort that must take place for a person to heal from a shame-based self-image."
Brhel added, "It serves as a cautionary tale that we parents must take care to be intentional about promoting attachment in our relationships with our children and in how we discipline, but at the same time, it's important to not inadvertently turn that shame onto ourselves for not being perfect parents. No one is perfect, and fortunately, there are healthy ways around those imperfections to help our children process their normal feelings of shame. So, it's not so much how to parent without shame, but rather how to parent our children -- and ourselves -- to best process the normal emotions of shame that will arise in their lives, just as we teach them to do when they are angry or disappointed. I'm always proud of each issue, but this is definitely among my favorites."

Shame can be a difficult topic for parents. API hopes this issue of Attached Family helps families be able to explore this topic safely. API hopes parents and professionals take away the idea that parents don't need to fear shame, and that Attachment Parenting is exactly how to address it in a healthy way.
Attachment Parenting International (API) is a 501(c)(3) non-profit member organization founded in 1994 to network with parents, professionals and like-minded organizations around the world. API's mission is to educate and support all parents in raising secure, joyful and empathic children in order to strengthen families and create a more compassionate world. In addition to providing assistance in forming Attachment Parenting support groups, API functions as a clearinghouse providing educational materials,research information, consultative, referral and speaker services to promote Attachment Parenting concepts.
More information about Attachment Parenting International can be found at www.attachmentparenting.org.