Pediatrician and Author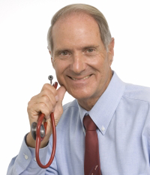 William Sears, one of America's most renowned pediatricians, is the father of 8 children, ages 15 to 40 years, author of over 40 books on childcare, and Associate Clinical Professor of Pediatrics at the University of California, Irvine School of Medicine. A pediatrician for over 35 years, he currently lives and practices pediatrics along with his three sons Dr. Bob and Dr. Jim, and Dr. Pete in San Clemente, California.
Dr. Sears received his pediatric training at Harvard Medical School's Children's Hospital in Boston and The Hospital for Sick Children in Toronto, the largest children's hospital in the world, where he served as Associate Ward Chief of the newborn nursery and Associate Professor of Pediatrics. In addition to writing many books and scientific articles, Dr. Sears is a medical and parenting consultant to Baby Talk and Parenting Magazines. Dr. Sears is a fellow of the American Academy of Pediatrics and the Royal College of Pediatricians.
"Dr. Bill" (as his little patients call him) and Martha have been guests on over 100 television shows including 20/20, Donahue, Good Morning America, The Oprah Winfrey Show, CBS This Morning, CNN, The Today Show, Dateline, and, most recently, The Dr. Phil Show, where they are regular guests. Dr. Bill is the on-line pediatrician for Parenting.com. William and Martha are best known for their Sears Parenting Library published by Little Brown: The Pregnancy Book, The Birth Book, The Baby Book, The Discipline Book, The Breastfeeding Book, The Fussy Baby Book, The A.D.D. Book, The Family Nutrition Book, The Premature Baby Book, The Baby Sleep Book, and The Healthiest Kid In The Neighborhood.